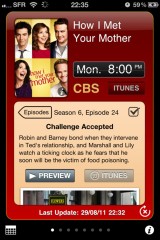 If you are an avid television watcher like I am, you probably have a jam-packed DVR and little idea of when shows are actually airing. When it comes to the DVR, you basically just set it and forget it. The problem is that a DVR usually costs upward of $120 a year to have, so there might not be room in the budget for it. So if you are want to keep tabs on when your favorite television shows are airing, it would be nice to be able to do that on your phone. That is where TV Show tracker comes in.
What is it and what does it do
Main Functionality
TV Show tracker allows you to follow every upcoming (and previous) episode of your favorite television shows.
Pros
Add as many TV shows as you want to your tracker
Channel, day, and time listed for each episode
Synopsis and video preview for every episode of each show
Push notifications to alert when a TV show is airing soon; fully customizable
Provides full schedule of upcoming and previous airings for your TV shows
Tracks episodes watched with Watch List feature
Optional badge count for unwatched episodes
Clever "Poster Wall" for quick switching between shows
Shake app to see TV show suggestions based on the shows you watch
Cons
Long update cycles for episodes
No sorting options for TV shows other than manually dragging them
No Facebook sharing of shows followed/watched
No iOS calendar integration
Users complain of random stability issues
No iCloud sync between devices
Discussion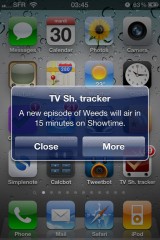 There are a handful of television show trackers out there for your iPhone, but to me TV Show tracker is the most useful. The app's home screen provides a unique sliding view, so you can swipe (left or right) through your full list of favorite shows. Adding shows is quite simple by way of a search engine connected to a complete database of every television show. Once added, each show on the home screen has a promotion picture and the show's broadcast network, as well as the weekly day and time it airs. Sometimes there is also a link next to the show that links to the shows iTunes page for buying or renting.
TV Show tracker does a good job of incorporating episode summaries and previews onto the home screen as well. A table of past and future episodes allows you to not only click on a specific episode to move to a summary/preview, but also allows you to mark the episode as viewed. I personally appreciate this feature as that is how I keep track of episodes I have seen and not seen, because the DVR isn't always reliable and skips random episodes here and there.
There is actually much more to the "mark as watched feature", as the app also features a "watch list" that presents every show you haven't watched out of your full list of favorite shows. When I first added a show (i.e. Game of Thrones), all the episodes showed up in the list, which caught me off guard. The reason being that I hadn't marked every episode as watched back to season 1. This is easily accomplished by holding down on the check button on the home screen, which will open a window asking if you want to mark all previous episodes as watched. After that, you can just click the individual check boxes for each episode on the watch list.
TV Show tracker also provides a nice calendar list of all previous and future shows, so you can browse forward or back to look for any airings you wish. Just a suggestion, but it would have been nice to have a way to incorporate the iOS calendar into this somehow. It would have also been nice if there were sorting features (i.e. alphabetically, chronologically by add date, etc.) for the TV shows on the home screen. You can currently only drag them around. Social sharing and iCloud sync are two other important areas where the app could improve at some point.
It is worth mentioning that TV Show tracker does indeed include fully customizable push notifications, which sets it apart from other apps in its genre. You can set alerts for any group of shows up to 2 hours before or after it airs, so that you will never miss you favorite shows. A very smart feature to include!
Conclusion and download link
TV Show tracker is my #1 choice for keeping tabs on my favorite shows. While there is some room for improvement, this tracking app has all the requisite features for staying on top of your can't miss television shows.
Price: $0.99

Download size: 3.3 MB

Requires: iPhone/iPod Touch/iPad; iOS 3.0 and up

Related Posts