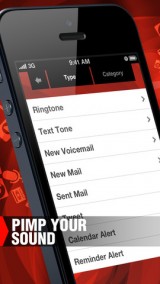 Currently your iPhone comes shipped with approximately 25 alert tones and 25 ringtones. Just as an aside, there can be some confusing wordplay here, because the term ringtone can often be used to represent any sound for alerting the user on your phone, but in reality ringtones and alert tones are often used for different purposes (i.e. a call versus a text). So for the sake of the this article, I will refer to any sound as a "tone".
The tones prepackaged on your iPhone are all simple sounds or short musical jingles that are decent, but chances are that most users aren't going to be satisfied. Some might even be surprised to hear that you can look elsewhere to find some new tones, given that iOS is not exactly known for easy customization. In reality, there are many ringtone apps on the App Store and a handful of them are actually quite useful. One of them is Pimp Your Sound by Apalon.
What is it and what does it do
Main Functionality
Pimp Your Sound allows you to either download custom ringtones or create them using your own music.
Pros
A large list of custom tones separated by various categories
Ability to mark favorite tones for easy locating of them at a later date
New custom tones are added regularly in the "New" tab
All tones can be saved to the app for future use
The ability to make your own tone using your music library or a device recording
Tone creation is quite user-friendly with added options such as fade, reverse play, and pitch adjustment
Nice interface
Cons
Categories (as seen in screenshot) often have a large overlap in tones.
Sound Theme Maker not very useful
Option to arrange or categorize saved tone list
Only sounds. There is no singing in the tones.
Discussion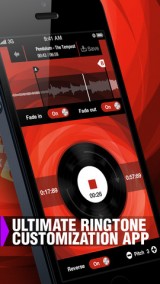 If you search through the App Store for "ringtones", you will be hit by well over a thousand results. The majority of those apps are simply tone makers that allow you to take one of your own iTunes songs and extract a short clip from them. Some have more features than others, but they are mostly the same concept. Another whole group of apps provide custom tones that the user is free to download. There are some decent apps like this, but always pay attention to those reviews/ratings, because this is a prime genre where developers looking to rip off users might upload a misleading app.
Pimp Your Sound stands out in crowed ringtone app (i.e. apps that sell tones) genre mainly because only a handful of apps that both contain custom tones and provide the ability to make your own. And fortunately for its users, it does it quite well. Pimp Your Sound's tone creator sports a nice interface and boasts most of the advanced features in this genre, including fade ins/outs, pitch adjustment, and the ability to reverse the track. In general, Apple restricts tone clips to 30 seconds, so you will be able to move the starting & ending barriers around the song to get the exact clip you want. All saved tones/clips will be stored in the Saved tab.
Pimp Your Sound also provides a healthy number of unique custom tones that they have created. You are able to search through these by type (Ringtone, Text Tone, New Voicemail, New Mail, Sent Mail, Tweet, Calendar Alert, Reminder Alert) or by category (New, Popular, Expressive, Formal, Sound Effects, Entertainment). It is very important to note that there is a tremendous amount of overlap between the type categories. You are indeed getting a good amount of tones, but not large lists unique to all eight category types. In reality, there are many tones that fit in all eight categories and are just repeated in the lists.
The tones provided by Pimp Your Sound are of good quality and cover a wide range of interests. It is worth mentioning, though, that Pimp Your Sound does not provide actual songs with artists singing (i.e. like you hear on the radio), but rather just short sounds or musical tunes. If you are looking for clips of music from the radio with your favorite artists singing, then you either make them yourself in this app with the ringtone maker or find another app.
Just to add, I tested out the Sound Theme Maker and I don't quite understand why it is in the app. All it does is upload a group of tones with the same name (i.e. the group name you provided) in front of them and what category you want them to be. In terms of functionality, it does very little.
[Note: If you look through Pimp Your Sound's reviews, you will find several bad reviews that basically allude to having to go through iTunes in order to get the tones on your actual phone. It is important to note that Apple's stringent rules don't provide the developer many other options than that. The developers could use a complicated Wi-Fi sharing setup or possibly upload to a cloud storage service, but that is just about it. Pimp Your Sound provides a nice tutorial for users to learn how to connect to iTunes (and locate the File Sharing feature under Apps) in order to get the tones from the app into your phone.]
Conclusion and download link
Pimp Your Sound is a quality ringtone app. By providing both custom tones and the ability to make your own, Pimp Your Sound sets itself apart from many other apps in its genre.
Price: $0.99

Download size: 14.5 MB

Requires: iPhone/iPod Touch/iPad; iOS 4.3 and up

Related Posts