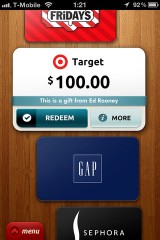 As of iOS 6, merchants can now develop passes that can be stored in Apple's new app called Passbook. If you have updated your iPhone's operating system, you might have seen it appear after the update. Although it is empty when you first click on it, it has the ability to store things such as plane tickets, boarding passes, coupons, and the subject of today's review, gift cards. We will get to that later.
I don't know about you, but I just plain stink at keeping track of gift cards. It seems that whenever I don't need them, I always seem to know where they are, but as soon as I am at that specific store and need them, they are are nowhere to be found. And then when I do some type of spring cleaning, I always find them in some strange nook in my car or buried under a foot of junk on my desk. So when I saw this new app called gyft, I was quite intrigued by the possibilities. I am glad I tried it!
What is it and what does it do
Main Functionality
Gyft allows you to store, send, and redeem gift cards on your iPhone. It also can be used as a gateway to add gift cards to Passbook.
Pros
Excellent user interface
Very easy to use
Passbook integration
Store, send, or use gift cards
Ability to purchase gift cards from within the app
Tracks gift card balances
Ability to redeem card from just the app
200+ compatible retailers
Optional passcode for security
Get two free gift cards if you sign up with Google, Facebook, or Twitter!
Cons
Can always have more retailers
Many older retail scanners still can't scan from these types of apps
Discussion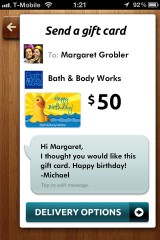 If you are like me and have a hard time keeping track of gift cards and/or often give them as presents, then gyft is going to be the app for you. When you first login using Google, Facebook, or Twitter, the app gives you two free $5 gift cards from one of its participating retailers. I don't know about you, but for a free app, that's a nice way to start out. The user interface is a smooth vertically scrolling group of gift cards (i.e. the ones just given to you for free) and user options, back-dropped by a aesthetically pleasing wood panel background.
What I like most about gyft is that it's straightforward and to the point. Basically, you can either to store a gift card or you can to buy one for a friend. That is it and everything else you need falls somewhere under those categories. If you choose to store a gift card, a nice side menu pops out from the right and lists all 200+ participating retailers in an alphabetically sorted list. Feel free to manually find the merchant or use their search engine. From there all you need to do is enter the card number and ID number (if applicable) and gyft will not only add it to your vertically scrolling front page, but also tell you how much is on the gift card.
I don't know about you, but if I can manage to keep track of a random gift card, I never know how much money is on it. I always found it too annoying to have to call someone or find the website to check it. Now you have the amount always up-to-date and on your iPhone. Also, as a reminder, remember to activate the passcode in the settings menu if you want to keep your gift cards for your eyes only.
If you scroll back to your home menu and click on your newly uploaded gift card, you are given several options, two of which would interest most users. Of course, one is to actually redeem the card at the retailer. All you need to do is hit redeem and an electronic version of the gift card will fill up your iPhone Retina screen, which then can be scanned for redemption. It is worth noting here that most bad reviews that gyft and every other gift/loyalty card app gets is the inability for stores to scan the phone (i.e. redemption code). Folks, please lay off the developers with these complaints, as some stores are still using the same old scanners from the stone age. You will find that newer chain stores like Starbucks will have no problem scanning the electronic codes. It is not the developers' faults.
The other interesting option within your newly loaded gift card is the option to transfer the card to Passbook. Even though Apple introduced Passbook in iOS 6, there really hasn't been much use of it for iPhone users. New apps are slowly popping up, including gyft, that allow you to fill up your Passbook with various items. The transfer of my gift card to Passbook by gyft was seamless and now I have a Starbucks gift card in my Passbook app. Very cool!
Lastly, gyft makes gift card purchasing a synch as you simply need to find the retailer, enter your credit card information, and choose the lucky person who you are sending it to. The app allows you to search through your Facebook friends (if connected that way) and your entire contacts list to find that person. You then have the ability to email or SMS them the gift card. I bought a gift card for my wife from a shoe place (i.e. she likes shows A LOT) and it was quick and painless, the way you would hope. Interestingly enough, you can actually re-gift your own gift cards as well.
Conclusion and download link
Whether you are utilizing gyft for storing, sending, and redeeming gift cards, or just using it as a conduit to Passbook, this new app does exactly what it says and does it well. And it is free!
Price: Free

Download size: 14.6 MB

Requires: iPhone/iPod Touch/iPad; iOS 5.0 and up

Related Posts