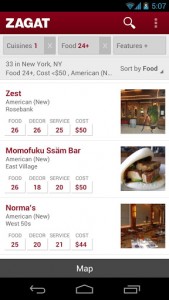 Zagat is application designed to help you find restaurants that might suit your tastes. This app is perfect for those who have grown bored with the restaurants they usually eat at. It is also great if you are just looking for what other people think about the restaurant you've loved for years.
What is it and what does it do
Main Functionality
Zagat is designed to be a central place for people to critique restaurants they've been to and the food they've had while they were there. It is meant to serve as a portal to all sorts of knowledge about the restaurants that are in your vacinity.
Pros
Find the most popular restaurants
Explore elegant restaurants all over the world right from your phone
Trustworthy ratings
Search using over 100 filters
Reserve tables
Be a critic and say what you thought about the restaurant
Cons
Minor bugs
Isn't consistent with Google Maps
Requires Google+
Discussion
Zagat is a new app of a not so new service. Zagat has cut its ties with Handmark and has become a part of Google. Zagat is a fantastic service designed to help people make the best decisions when it comes to where they want to eat. Zagat's reviews have been popular and trustworthy ever since the service began, so you know you are getting reliable information.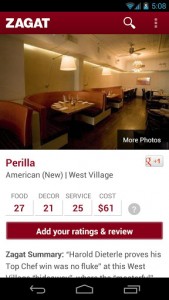 What's cool about Zagat is you can find information about any supported restaurant in the world. This means you can browse all sorts of restaurants from other parts of the world. While searching for restaurants, you can use over 100 filters to narrow down your search. These filters include cuisines, Zagat scores, cost, and dining features. The dining features aspect is great because it will allow you to sort results by things like outdoor seating, open late, and child-friendly.
Zagat is the only app you need to use before heading out to eat. This is because it allows you to make reservations right in the app if the restaurant supports it. Because it is a part of Google, Zagat is now integrated with Google Maps. However, I have discovered that the actual app doesn't always find the same restaurants that Google finds on Google Maps.
There are just a few things wrong with this app. For starters, you must have a Google+ account now. This move isn't surprising due to the fact that it is now owned by Google, but is still rather annoying for those who choose not to take part in social networking. Additionally, the application can be very buggy at times, but this is undoubtedly due the fact that the application has just been released and is still relatively undeveloped.
Conclusion and download link
Overall, the improvements to Zagat's service since becoming a part of Google is great. Zagat can literally be your one-stop app for when you are looking for a great place to eat. With only a couple minor annoyances, that will hopefully be fixed over time, there isn't really a lot of negative features about this service.
Price: Free
Version reviewed: 1.0
Requires: Android 2.2 and up
Download size: 9mb
Related Posts