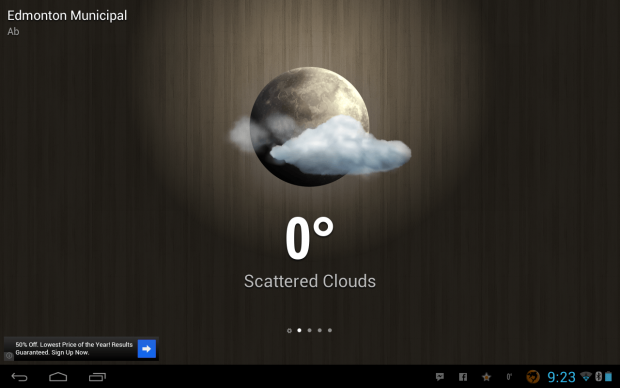 When I got my first Android device, the first thing I noticed is it didn't come with a weather app pre-installed. Today, with the latest version of Android, which is Jelly Bean, you can use Google Now for your weather needs but this doesn't always work, depending on what you need it for. That's where Weather comes in.
What is it and what does it do
Main Functionality
This app's main purpose is to deliver up-to-date weather information to you. Weather apps on Android are a dime a dozen. Let's see how Weather stacks up against the rest.
Take note even though this app wasn't necessarily designed for the larger screen of a tablet, and more so designed for the screen of a phone, it still works well on both devices.
Pros
Simple design that is easy to understand and aesthetically pleasing
Works well on a tablet even though Weather was designed with the screen of a phone in mind — nothing looks low quality and stretched out on the screen of a tablet
Breaks down the weather in an hourly forecast, daily forecast, and of course, current weather conditions
If you prefer to use the imperial system (Fahrenheit) over the Metric system (Celsius), you can
Weather displays the current weather conditions in the pull-down notification menu and status bar, so you can get an idea of what the weather is without the need to open the Weather app
Has a widget that displays the current weather
Works in both landscape and portrait mode
Cons
Daily forecasts aren't as detailed as they could be
Current conditions displays a minimal amount of information
Discussion
Weather features a simplistic design that is easy to understand. This is a very good thing to see because when someone is using the app, they're probably going to want to quickly find the information they're looking for and not fumble around with confusing menus and buttons. Simplicity is sometimes the best way to go and, in this case, Weather does a very good job in this regard.
I've complained about an issue since I got my Motorola Xoom — there are not enough apps that support tablets without being distorted. In the case of Weather, even though it may have been designed with a phone in mind, it still works well on a tablet. While some apps appear distorted on tablets, Weather does not appear "stretched out" at all — it actually looks good. For example, the font and pictures are just the right size to make sense on a tablet, and when swiping from page to page, there isn't any lag, which would be a huge annoyance, and the animations are smooth. Obviously it works well on a smartphone, too.
Weather has three pages that detail the weather. The first one is the current conditions page, which displays the current temperature. The second page contains a lot more information than the first page; the second page is an hourly forecast, which can be very useful at times. Here it shows the time, temperature, and chance of precipitation for each hour. For example, 1:00 PM, 20% chance of snow, -4°C. The third page is a five day forecast, which is very useful and organized in a way that makes sense, just like the rest of the app. This page displays only basic information on the days ahead, but the info is just enough to still be useful; any less, and it just wouldn't work.
The next feature I am really happy to see implemented in Weather is its presence in the pull-down notification. The current temperature is displayed in the status bar, along with the rest of your notifications. This, I think, is a very smart idea on the part of the developers behind Weather. This feature would be useful if I wanted to know what the temperature was but didn't want to open Weather. This feature can be used quite often by users; I know, because it is one that I use quite often.
I think the biggest problem with Weather is the fact that weather forecasts just aren't as detailed as they could be. This may of been done for a reason, maybe to keep the app simple, but, still, more detailed forecasts should be added in the future. At least there should be the option to have more details. I would like to see thing like radar and satellite images added to weather, though this might just be one thing that isn't ever going to happen. Despite this issue, Weather is still a pretty good app, but if you are looking for very detailed forecasts, maybe go look elsewhere.
Conclusion and download link
Overall, Weather is a very good app, and by far is one of the better weather apps I have found for Android yet. Even though this program has it's issues, they are minor ones so they shouldn't affect most users too much (I know they don't affect me too much). Weather doesn't randomly crash like some other apps out there do, and it's design is simple enough that just about anyone should be able to understand it and get to the information they need quickly. I would recommend this app to anyone that is looking for a simple, free, weather app for their Android phone or tablet.
Price: Free
Version reviewed: 2.1
Requires: Varies with device
Download size: Varies with device
Related Posts