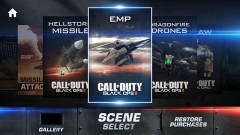 Has a car ever rolled through your office parking lot? Has a gigantic boulder ever landed in your backyard? Hopefully the answer to both those questions is a resounding "no", but these are the types of action move effects that you can easily create with Action Movie FX.
What is it and what does it do
Main Functionality
Action Movie FX allows you to incorporate big action movie explosion scenes in your own videos.
Pros
Attractive user interface
 Extremely easy to use
Ability to edit when FX occurs in your video
Excellent sound FX to go along with each action sequence
Holds a gallery of your creations and you can save to Camera Roll
Can share with friends through email or Facebook
Cons
Several effects are premium
Discussion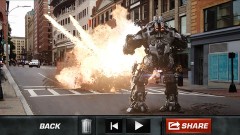 Action Movie FX specializes in doing only one thing, but it does it remarkably well. It adds outstanding explosive sequences to any video you create using your iPhone. Obviously this app isn't going to be attractive to everyone, but even if it doesn't sound like your cup of tea, I would try it anyway. The developers do such an outstanding job of incorporating sequences into normal videos, that it is really hard to tell the video is fake. My first creation was so crazy to see that it actually made my laugh.
The main screen of Action Movie FX is a carousel-like sliding menu that allows you to choose which action sequence you want. There are currently six free sequences, two that will be opened if you simply watch a video game trailer, and eight premium combo packs that can be purchased for $0.99 each.
Upon clicking one of the sequences, you will be asked to record a video at least five seconds in length. There are also recording tips next to the video window that are suggested to provide the best possible result. Once you hit record, the outline of video window will be red. Once it turns green, which represents 5 seconds of record time, you can stop the sequence or continue to film more. Action Movie FX then creates your new video with an action sequence embedded and provides the result to you on the screen. You have the option of playing it, sharing it through email or on Facebook, saving it to your Camera Roll, or deleting it and trying again. The app keeps a nice gallery of all your videos if you would like to view them later.
Conclusion and download link
Action Movie FX is quite a unique app. The concept of adding explosive movie FX scenes to your user-created videos is something the developers pulled off quite well here. I was blown away by the results. Give it a try and see what I mean.
Price: Free

Download size: 46.2 MB

Requires: iPhone/iPod Touch/iPad; iOS 5.0 and up

Related Posts