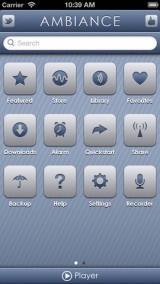 Are you one of the 60 million U.S. adults that suffer from insomnia? Are you one of the 40 million that are plagued by anxiety? If you fall into either or both groups or just enjoy listening to soothing sounds, then Ambiance might be just what you need.
What is it and what does it do
Main Functionality
Ambiance provides a database of sounds that you can download and listen to for the purpose of mental comfort and relaxation.
Ambiance comes in two versions — Free and Paid. The only difference between the two is that the Lite version limits you to 3 sound downloads. After that, you must purchase the premium version to download more sounds. For the purposes of this review, dotTech tested the Paid version.
Pros
Over 2500 free ambient sounds; download only what you want
Mark sounds as favorites so you have them in one place
Beautiful HD images accompany sounds
Sounds will play in the background (i.e. multitasking)
Comes with 5 customizable alarm themes
Can be alerted when new sounds are added (which occurs often)
Shares sounds wirelessly between iPhones
Creates backups of your Ambiance app
Unique ability to add shortcuts to certain libraries, mixes, playlists, or smartlists
Able to configure quick start option to immediately play music on startup
Cons
A handful of sounds are premium
Discussion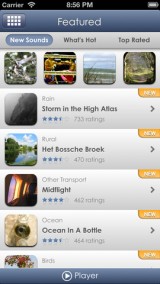 Sounds are quite powerful. They can remind us of the good times or the bad. They can calm you down or crank up your anxiety. For some people, they can't fall asleep without them. And that is exactly what Ambiance is all about. They have collected thousands of environmental sounds meant to relax and soothe the mind. Now with over one billions songs downloaded since its debut in the App Store, its users clearly believe in Ambiance.
Ambiance's main interface looks a lot a lot like the iPhone's, with icons for each of the possible user actions (as seen in the screenshot above). The first 5 icons, Featured, Store, Library, Favorites, and Downloads, are all about how the sounds are found and managed. The Featured section provides the opportunity to peruse through the newest sounds, what's hot, and the top user rated sounds. Clicking on any sound gives you the ability to preview the sound and accompanying image, as well as download or share the sound.
The Store section of Ambiance allows you find sounds broken into 25+ different categories. This is also where you can check out the handful of premium sounds that they offer. If you choose to download a song, it will appear in the Downloads section until completely downloaded and then end up in your Library section. When playing a song, you have the option clicking the heart to add it to the Favorites section. Feel free to use the search bar to find pretty much anything in this app as well.
What makes Ambiance stand out, though, is that it's more than just a sound database and player. It smartly includes several alarm clock themes, so you can now use the app as your standard alarm clock. The app also provides wireless sharing of sounds across iPhones as long as both phones have the Ambiance app. Another useful feature is the "QuickStart" option that when turned on, automatically starts playing your sounds when the app opens. So basically, you don't have to go through a bunch of clicks to get sounds to play. In reality, there are even features spread out through this app, including backup capability, icon shortcuts, a personal recorder, numerous searching capabilities, and an absolute ton of user options.
Conclusion and download link
Ambiance is the type of app that just about anyone can use. Whether your anxious, restless, having trouble sleeping, or just plain want to relax, it provides all the important tools for doing so. My suggestion is to try out the lite version and see how you like it first. To me, this is a keeper.
Price: Free, $2.99

Download size: 15.3 MB

Requires: iPhone/iPod Touch/iPad; iOS 5.0 and up

Ambiance Lite on iTunes  |  Ambiance on iTunes
Related Posts