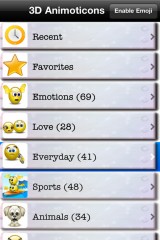 I have been a member of hockey messageboard for several years and one of the things I loved about it was the little animated smileys that you could input into your posts. Some of the smileys were so well done, that you literally didn't even have to write something in the post, because the smiley would sum up your thoughts perfectly. I wouldn't have even thought that something like that was available for the iPhone until I found Animoticons Emoji Pro.
What is it and what does it do
Main Functionality
Animoticons Emoji Pro allows you to paste impeccably designed animoticons into SMS messages and Email.
Pros
Provides over 600 animoticons separated into useful  categories
Able to copy as many animoticons to SMS messages as you want
Can see animations right in the SMS conversation screen of the iPhone
Able to compose Email message with animoticon added
Recent and Favorites lists for easy access of animoticons
Allows you to enable the Emoji keyboard in the iPhone
Cons
Very plain user interface
App has not been updated for over a year (since debut)
Animoticons save to Camera Roll or Facebook as a still image
Android phones won't see the animation unless they click on the image to enlarge
Discussion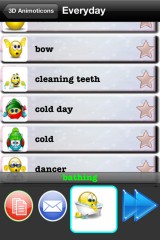 I came across Animoticons Emoji Pro last year when it had gone free for a couple days. The rating wasn't great, but the concept of putting animated smileys in my SMS messages was too enticing to ignore. I am so glad I did, because the animoticons in this app are just amazing. I have downloaded several animoticon apps and this is truly the one with the most quality images.
It is quite easy to use the app as the main screen is simply a list of all the animoticon categories. If you click on a category, let's say Emotions, you will see a list of brilliant smileys and their names. All you need to do is click on one and an animated preview will appear on the bottom. You have the option of copying the smiley to the iPhone clipboard (for SMS), opening an email with the animoticon in it, or adding it to the favorites menu. You also can upload it to Facebook or save the image to your Camera Roll, but given that both only show a still image (rather than the animation), you don't get the same effect.
Please note that when you review apps, you have to be able to keep an open mind about an app even if the user reviews seem poor. Animoticons Emoji Pro is currently rated only 2.5 stars, but it seems like the many of bad reviews are due to things out of the developers control. Could the developer update the app and add some more features (i.e. improve the app)? Sure, that would be nice to see, but it works fine and serves its purpose of providing excellent animoticons to the user.
As a supporting feature, this app also allows you to enable the Emoji keyboard in your iPhone. There are many apps that do this on the App Store, but it is nice addition nonetheless. Note that you have to go to Settings>Keyboard>Keyboards>Add New Keyboard…>Emoji after that to fully activate the keyboard.
Conclusion and download link
While Animoticons Emoji Pro is quite a simple app that could use some interface improvement and maybe a few more features, it functions quite well and provides well-designed animated images to add to your SMS or Email.
Price: $0.99

Download size: 15.0 MB

Requires: iPhone/iPod Touch/iPad; iOS 3.0 and up

Animoticons Emoji Pro – Word Game on iTunes
Related Posts