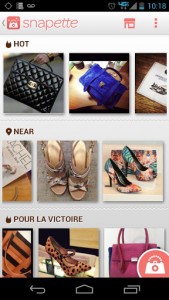 Snappette is an app that will point you in the right direction of all the latest fashions. This app is great for those who love to find and shop for clothes. It can also be great if you are looking to update your wardrobe a little bit.
What is it and what does it do
Main Functionality
Snappette is designed to guide you in the right direction for all of your fashion needs. It is meant to serve as a one-stop shop to find every piece of clothing you're looking for.
Pros
Explore nearby stores or stores all the way around the world
Get real time alerts on stores' newest arrivals
Browse endless photos
Buy products no matter where you are
Read full reviews on potential purchases
Snap photos of favorite fashion finds
Cons
Products are generally only for women
Very buggy
Discussion
Snapette is an application that will put you in touch with all of your favorite fashion styles. Snapette will get in touch with your GPS and find products that are specifically sold near you. This is great as it keeps you from having to guess whether or not a store sells a product. Unfortunately, most of the products you will find will be specifically for women. This makes this app almost useless for men.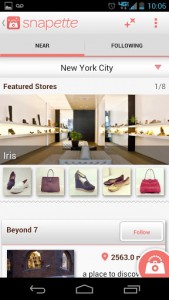 Snapette will alert you on a store's new arrivals so you can see if it is something you will enjoy or not. You will know exactly what the product looks like because the app will provide tons of pictures so you can get the perfect idea. Additionally, some stores will support in app purchases. This means that for some products, you will be able to buy it directly from the app without having to even step foot in the store.
There is great community support in the app. This shows when you look at a product and are able to read other customers' reviews. This will let you easily see what other people think of the product and make it easier for you to make your decision. If you find a product that is not listed or doesn't have a photo, you can easily snap a picture so you will always remember what it looks like.
Conclusion and download link
Overall, Snapette is a great application for women. However, if you are a man then you will likely find no use for this app. While the app itself is pretty buggy, it does indeed provide a decent service. Regardless, the features packed into this app can be very useful if you are constantly updating your wardrobe or if you just love fashion in general.
Price: Free
Version reviewed: 2.040
Requires: Android 2.1 and up
Download size: 11mb
Related Posts