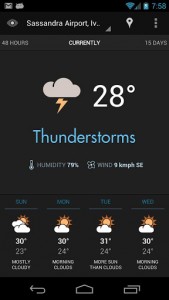 Eye In Sky Weather is an app that takes a minimalist approach to weather. This app is perfect for those who find typical weather apps to clunky and overwhelming. It is designed to give you want you need, when you need it, and nothing else.
What is it and what does it do
Main Functionality
This app's main functionality is to simply display the weather in a simple and elegant way. It is designed to make it as convenient as possible to keep up with weather conditions.
Pros
Clean and simple weather information
Elegant design
12 different icon sets
Ability to add your own icon sets
4 highly customizable widgets
Optional pro version
Cons
Inaccurate GPS
Limited manual locations
Drains battery
Buggy auto update
Free version is ad-supported
Discussion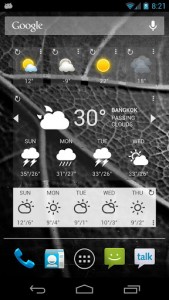 Eye In Sky Weather is a really great app for those looking to truly simplify their weather experience. It takes accurate weather information and combines it with minimalism and elegance. This app is unique form most weather apps because it offers a fair amount of customization while still maintaining the bare essentials. As a result, you only get the information you want, nothing less and nothing more.
This app will provide you with 12 icon sets that can be used to customize the look and feel of your weather experience. Additionally, it allows you to upload your own icon sets. This makes it easy to have the app look exactly like you want it. You will also get 4 different widgets. Each of these widgets is highly customizable and will display all of the information you want to see.
Unfortunately, this app has a couple problems. For starters, the GPS functionality is very poor. In  most cases, the app's location will usually be a town over or nearby the one you're actually in. On top of that, the selections for manual location entry are very limited. You cannot manually enter a small town. In other words, if you live in a small town, you have no choice but to deal with the minor inaccuracy.
Conclusion and download link
Overall, this app functions properly. However the location woes can be very annoying if you are not in a popular city. This app also has an optional pro version that will disable all ads and help support the developer. Generally speaking, this app is great and displays simple weather information much more elegantly than most weather apps.
Price: Free
Version reviewed: 4.0
Requires: Android 2.2 and up
Download size: 8mb
Eye In Sky Weather on Play Store
Related Posts