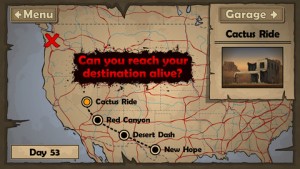 Like killing zombies? Who am I kidding? Of course you do! Now you can blend your love of smashing zombies with your love of cool cars in Earn to Die Lite, an iPhone game developed by the geniuses over at NotDoppler.
What is it and what does it do
Main Functionality
Earn to Die Lite is an iPhone game where your goal is to build the most deadly custom car on the planet, and then use it to mow down hordes of angry zombies across a variety of landscapes.
Pros
Pretty smooth graphics and awesome sound design (zombies make good noises, but the background music is really stellar)
Addictive gameplay with simple controls
Great visual effects, like a "bullet time" where you can really take in the carnage
Challenging level design
Cons
Lite version only lets you play through the first level of the Story version of the game
Early runs can often feel a bit too much like grinding to be really enjoyable
Some of the in-game physics seem a bit unbalanced
Discussion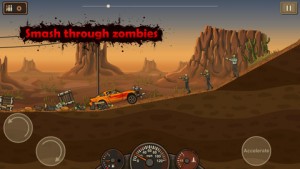 If you've played games like Hedgehog Launch or Burrito Bison, you'll be familiar with this genre of game. Except, in this case, you're driving across a desert instead of flying. Your goal is to go as far as you can before running out of fuel, while also destroying as many enemies as you can. To do this, you need to upgrade your ride with cash that you earn from your previous runs.
It's a tried and tested mobile game formula, and Earn to Die Lite really does draw you in. As with a lot of games in this genre, the first dozen or so runs can be a real turn off just because you can't build up the momentum to get a satisfying run in. But stick with it, and you'll be whooping and hollering when you mow down your first giant zombie or blast through a brick pile.
The controls couldn't be simpler to use, and while I did experience some minor lagging with the graphics occasionally, it wasn't too bad. Some of that lag is intentional: when you smash something up really well, you go into a kind of "bullet time" that lets you admire the carnage you've created.
What makes Earn to Die Lite work is the two-pronged approach to making each run: you need to focus on upgrades that will help you power through obstacles, while also focusing on what upgrades will keep zombies from getting attached to your car. In addition to unlocking different cars (including a sick school bus), you can add on weapons like hatchets or power-ups like a jet engine.
This zombie-killing title is so addictive that the friend who introduced me to the game had already played through it online, and then bought the iPad app so he could play it all over again with some bonus content. While it looks great on his iPad, I'm very satisfied with how Earn to Die Lite looks on my much smaller iPhone 4S screen.
Conclusion and download link
Earn to Die Lite is great fun for iPhone gamers. There is a full version available for 99 cents that has way more content. It's worth downloading the Lite version to see if you'd like to see the rest of the story play out. There's an HD version for the iPad as well, but it's a bit more pricey. If you have both an iPhone and an iPad, I'd stick with the iPhone version: the iPad version is a bit overpriced. If you need a new time waster, Earn to Die Lite is great for zombie fans and zombie haters alike.
Price: Free
Version reviewed: 1.0.4
Requires iPhone/iPad/iPod Touch, iOS version 3.2 or later. Optimized for iPhone 5.
Download size: 35.5 MB
Earn to Die Lite on Apple App Store
Related Posts