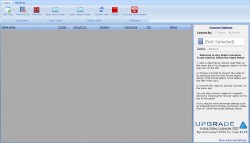 There are a lot of different video converters out there. Although I have tried a number of converters, I found Ace Video Converter to be one of the easiest to use. Best of all, I did not notice many limitations in the free version. They do offer a pro version, but I am not even sure what the point of upgrading would be. The free version works perfectly and is already able to do everything I need it to.
WHAT IS IT AND WHAT DOES IT DO
Main Functionality
Ace Video Converter is a program used to convert videos to other formats. However, it can also be used to rip audio from videos and download videos right from YouTube. The program is easy to use, and converts videos pretty quickly (depending on the format).
Pros
Allows you to choose to convert by format or by device. Choosing to convert by device will list popular devices and the formats that they naturally support
Converting is quick, and quality appears to be high
Can rip audio from videos
Convert video and audio between formats, including (but not limited to): MP4, AVI, WMV, 3GP, FLV, MKV, MP3, MOV, WAV, WEBM
Can download videos from Youtube
Can set up custom parameters
Has a bunch of preset profiles for various electronic devices, such as iPhone, PS3, Xbox, and Android devices
Supports drag and drop video detection
Supports batch processing
Cons
Tries to get you to install extra programs during installation (simply uncheck and decline to avoid)
Need to upgrade to Pro ($3.99) to be able to rip/convert DVDs
Discussion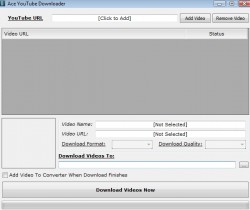 There are a number of reasons why I liked Ace Video Converter. The program is completely free, and there is only one limitation. They do offer a pro version, but I think this is more like a "donation" to the developer than anything else. After all, the free version is able to do everything I wanted it to do (aside from rip/convert DVDs — need Pro for that).
Ace Video Converter makes converting videos you already have on your computer easy. Please note, the program does not help you download videos off the internet (unless you count the videos it allows you to download from YouTube). So the videos you do convert have to already be on your computer. You can open the folder where your video is stored, or you can simply drag and drop the video you want to convert right onto the program.
After choosing your video, simply choose the format you want to convert the movie to on the right side. You can choose between a number of video formats including: MP4, AVI, WMV, 3GP, FLV, MKV, MP3, MOV, WAV, WEBM. If you are converting a video to be played on a specific device, you can also choose to convert videos by "device". This option comes up with a list of other devices, like PS3, Xbox 360, Android, iPhone, and so on. After choosing the device you want, the program will help you choose the right format.
Some of the other features Ace Video Converter offers include the ability to play video files, automatic shutoff (which will turn your computer off when your video is done converting), and the ability to rip audio from any supported video format. When ripping audio from videos, you can choose between the following audio formats: MP3, WAV, WMA, AAC, and RA.
The only problem I had with the program came during installation. Like so many other free programs, it attempted to get me to install other programs. This can be easily avoided by reading all of the options and simply unchecking the things you don't want. However, having to do this is always slightly annoying.
CONCLUSION AND DOWNLOAD LINK
Ace Video Converter is a great program and option for people who are looking to replace their current video converters. I enjoyed using the program, and since it was able to download YouTube videos as well, it actually replaced two of my programs! If you are looking for a new video converter, I highly recommend giving Ace Video Converter a try.
Price: Free, $3.99
Version reviewed: 3.0
Supported OS: Windows 2000 / XP / 2003 / Vista / 2008 / 7 / 8
Download size: 19MB
VirusTotal malware scan results: 1/45
Is it portable? No
Related Posts