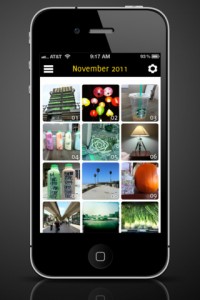 Project 365 is a cool photography app developed by Alvin Yu. You take a single photograph each day, ultimately creating a memory of that year of your life in pictures. You can use this app to improve your photography skills, create a photographic journal, track your weight loss, or just store some great memories.
What is it and what does it do
Main Functionality
Project 365 lets you create a digital photo album, which takes the shape of a calendar with an image on each day of the week. You can either take a picture with your iPhone camera or add an existing photo from your camera roll. You can also share your photos using Facebook, Twitter, or email.
Pros
Great layout: You can see an entire month on one screen, then tap on a specific day to see a bigger view of the image
Easy to add or share images
App offers a built-in timer, to remind you to take your photo of the day
Sleek, modern design
Cons
Annoying pop up ads ask you to download other apps by the same developer. There are also banner ads on the individual photo pages for each day on your calendar.
Project 365 only lets you do one year at a time. You need to upgrade to Project 365 Pro to do a continuous, multi-year project.
Free version of Project 365 lacks a robust set of features. There's no passcode protection, no easy way to back up your photographs, and no ability to show the images as a slideshow.
Unable to do multiple timelines concurrently.
Discussion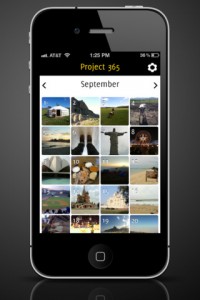 Project 364 offers a minimalist experience in more ways than one. On the plus side, the design aesthetic is minimal, sleek, streamlined, and utterly modern. The app itself is as beautiful as the photographs you are going to fill it with.
But the minimalist nature of this photography app also poses some problems for users who want a more full-featured experience. That's not to say that Project 365 feels underpowered or underwhelming. It's a great looking app that offers a great package for a cool concept.
But looking over the list of features for Project 365 Pro, it's hard not to salivate over the features you didn't realize you were missing. The Pro version includes slideshows, the ability to export the thumbnail view of your images, the ability to backup your photos online or export to Flickr, passcode protection, and different display modes.
Project 365 is a cool idea, no matter how you look at it. And while the free version lacks some bells and whistles, it is still a solid app that performs well. My one unresolved question is this: can users who use the free version import their old photos into the Pro version of the app when/if they upgrade? I haven't been able to find out the answer from my research: does anyone out there know?
Conclusion and download link
With 2012 coming to a close, there's no better time to start thinking about what you want to do in 2013. If you want to chronicle a New Year's resolution like getting fit, traveling the globe, or trying new things, Project 365 is a cool way to hang on to the moments in your life that matter most. While it may have some annoying features (like those darn ads), the concept is a cool one, and the execution is nearly perfect.
Price: Free (Pro version is available as well, for 99 cents)
Version reviewed: 2.0
Requires iPhone/iPad/iPod Touch, iOS version 4.0 or later
Download size: 2.9 MB
Project 365 on Apple App Store
Related Posts