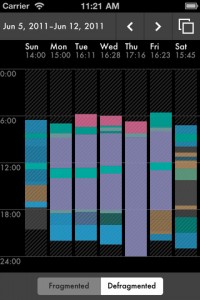 If you've been looking for a better solution for tracking and managing your time, you might want to check out Fathm. This iPhone app was developed by Pajama Consulting, and helps users manage their time thanks to an ingenious system of visualizations.
What is it and what does it do
Main Functionality
Fathm allows users to see how their time is being spent thanks to two ingenious visualization tools. The first: an interactive "Daily Donut" tool, which shows your day as a pie chart. The second tool is a Fragmentation chart, which lets you see the breakdown for each day or a week at a time. You can track your time down to the minute, resulting in charts that are as accurate as possible.
Pros
Great design that marries a beautiful design with superlative function
Unique "slicing" action is used to block off sections of time, somewhat mimicking the feel of a pen and paper dayplanner or agenda
Helpful, hands-on tutorial helps users get their bearings
Makes great use of pinching, slicing, and tap gestures to control the app, rather than the constant typing required of other scheduling apps
Easy to add tags for frequently-used activities, or create sub-categories
Ability to see your daily breakdown as a list, agenda, "time budget," donut, or fragmentation grid (and its easy to switch between them)
Cons
Color scheme for color coding is limited to 7 basic colors to start from (8 if you count "no color"), which might not be enough for some users. Some of those colors are a little pale, boring, or subjectively "gross."
Multiple view options may confuse and overwhelm some users
Feels a little cramped on the iPhone, especially since you can't reorient the device into a wider, landscape view
Discussion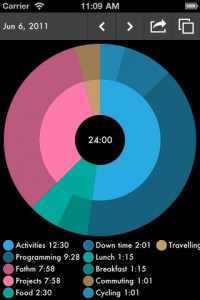 By posing the simple question, "What are you doing right now?" Fathm creates a simple, immediate way to start tracking your time., right now, without delay.
The time visualizations are beautifully designed, but your mileage may vary when it comes to the color scheme. The palette is overall a bit muted, with colors that remind one of Pepto Bismol, fog, or discontinued M&M's. Many users will likely wish they had more control over the depth and saturation of the color palette.
User reviews on iTunes suggested that I should buckle in and get ready for an app that crashed and lost data. In the time I played around with this app, even with tons of other apps running in the background, I experienced neither of these issues.
You can tap an icon in the top right corner to go to the screen where you select your preferred view, and use a swipe gesture to see your options. The first view is like an agenda, and it works well to see you day at a glance. The "donut" view is great for reviewing your time allocation at the end of the day and seeing where you can make improvements.
I particularly enjoyed the "slice gestures" used to block out a given length of time on your calendar. The ability to drag the lines to make them more precise, or pinch to zoom on the selected area, all felt very natural after a quick run through the tutorial.
Conclusion and download link
Fathm is thoughtfully designed, even if some of the colors won't be to your taste. It's a solid tool with no major flaws. If you need to track time for clients, projects, or your own personal growth, this handy app will help you manage your time and find a better work-life balance.
Price: Free (and it always will be, according to the developers)
Version reviewed: 1.0.2
Requires iPhone/iPad/iPod Touch, iOS version 4.0 or later
Download size: 1.6 MB
Fathm on Apple App Store
Related Posts