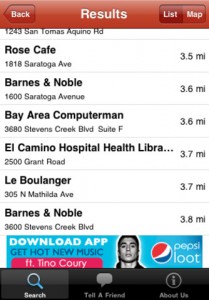 Whether you're hunting for a hotspot while on the go, or just looking to score some free Wi-Fi in your area without having to deal with an ISP, the app Free Wi-Fi, developed by YOUniversal, is worth checking out. Like the Wi-Fi you'll be tracking down, the app is also free.
What is it and what does it do
Main Functionality
Free Wi-Fi provides a list of Wi-Fi locations at public places like restaurants, cafes, and libraries all over the country. In addition, the app also provides driving directions to reach these Wi-Fi hotspots.
Pros
Lists over 14,000 Wi-Fi locations and counting
Over 2,500,000 users
Easy to contact dev team with a new Wi-Fi hotspot to add to their database right from within the app
Cons
Hasn't been updated since 2010, leading to some out-of-date listings
Annoying, animated banner ads, as well as pop up ads that you have to skip through
iTunes page states that the app currently serves US users only. They claim they will be adding international support in future updates, but given the fact that updates haven't been made in over two years, that doesn't seem likely.
Similar vague developer promises of "cool features that we will be adding shortly" also seem unlikely to bear fruit
Discussion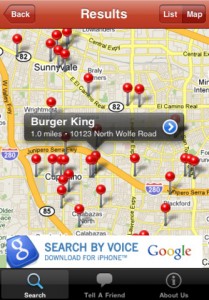 Your mileage may vary, but Free Wi-Fi did a pretty decent job of collecting all of the hotspots in my area. There were a couple of outdated locations (one business had moved recently, while another went out of business about a year ago.) There was also a case of duplicate listings. Overall, not bad. It's also nice that you can review the hotspots near you as a list, or in a zoomable map.
It's kind of a bummer that this app hasn't been updated since 2010. All those promises of international support, new features, and an overall better app experience are unlikely to be fulfilled this year.
It's too bad: despite the annoying pop ups, this app was actually pretty solid. It had a simple purpose, and it did what it set out to do quite well. It's unclear whether the developers are still reviewing user suggestions for new hotspots, though that function still appears to be working.
Still, it's great that you can find a hotspot location in the app, then open that location in Maps to get precise driving directions. I'd just double check that each location still exists before you start your drive.
Conclusion and download link
Free Wi-Fi may be somewhat outdated, so it's always a good idea to call ahead to these places and double check their hours. That being said, the listings I was given for my city were pretty solid. For a free app, this is definitely worth a spin, especially if you're always in need of a place to sit down and do some work on the go (and on the cheap.)
Price: Free
Version reviewed: 3.1
Requires iPhone/iPad/iPod Touch, iOS version 4.0 or later
Download size: 1.2 MB
Related Posts