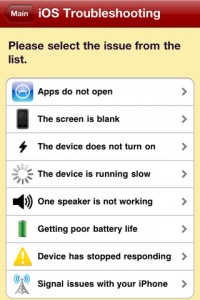 Troubleshooting is the first action any iPhone user must take before taking their device to the Genius Bar at the Apple Store. If you're the kind of person who prefers to try and fix things yourself, you might want to check out the troubleshooting app uFix, developed by 2 Head Solutions and currently free for a limited time only.
What is it and what does it do
Main Functionality
uFix allows users to how to fix common issues with your iOS device without the need for any extra support. Additionally, it can locate the nearest place to have your iPhone, iPod, or iPad serviced.
Pros
Loaded with helpful information
Universal app: if your iPhone is acting up, you can troubleshoot on your iPad, and vice-versa
Mac support is going to be added very soon as well. So you will be able to fix common issues with your Mac at home without the need to send your computer in for repair.
Faster than standing in line at the Genius Bar
Easy to send feedback to the developers with email template that includes spaces for issue, device, version, and occurrence
Cons
Design snobs may be underwhelmed by the aesthetics
Only eight real issues are discussed (though there are multiple solutions suggested for each issue)
"Find your closest Apple Store" feature isn't on the home screen: you have to click through to a problem to find this tool
Hasn't been updated since 2011, so advice for newer devices may not be up to snuff
Discussion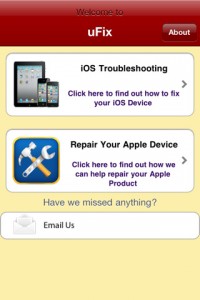 uFix provides simple solutions for a number of common iOS device problems, including apps that won't open, blank screens, unresponsive devices, slow devices, poor battery life, or signal issues with your iPhone. It is very easy to navigate, though arguably this is more because of the small number of issues listed, rather than a sound organizational structure.
Since the app hasn't been updated since 2011, issues related specifically to the iPhone 5 are not included. Beyond the infamous Maps malfunction, this means that uFix doesn't have specific information as to how to treat common iPhone 5 issues like discolored photos and incompatibilities with LTE networks in some regions.
If you have a newer model iPhone, or are planning to upgrade soon, it's worth noting that this app hasn't been updated in quite some time. Who knows if it will be updated with new info anytime soon? For that matter, who knows if the promised Mac-related updates will ever be complete?
Conclusion and download link
If you want to save time and see if you can fix your issue without the need to speak to Apple, uFix is a handy tool to have in your app arsenal. Admittedly, if you don't have another iOS device, it might be hard to use uFix in the event that your particular issue involves an app that won't open. If you have a problem with your iPhone or other iOS device, this app might give you some helpful tips. Get it while it's free.
Price: Unknown but is free currently for a limited time

Version reviewed: 1.1.0
Requires iPhone/iPod touch/iPad, iOS 3.0 or later
Download size: 2.1 MB
Related Posts