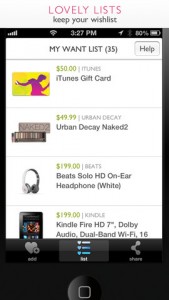 Making a list and checking it twice isn't just a job for Santa. I'm constantly juggling various shopping lists, gift idea lists, and my own personal wish list. Once you've done all the research online about what item you want to buy, it's important to keep that information handy for when you are finally ready to make that purchase. But my wishlists take many forms. If I'm not keeping them on scraps of paper on my desk or on a sticky note in my Mac, I'm generally stuck using Amazon's wish list, simply because you can import stuff from any site. But I wanted a more elegant, beautiful, and robust wish list solution. That's why I decided to try out I Want Wish Lists, developed by simplehoney.
What is it and what does it do
Main Functionality
I Want Wish Lists is a simple, elegantly designed app for tracking the things you want to buy and how much they cost. Great for personal use, it is also a good app for collecting ideas throughout the year so that you are stumped for gift ideas come the holiday season or a birthday.
Pros
You can now share specific items from your want list instead of sharing your entire list.
Created by the minds who brought you I Can Haz Cheeseburger and Soompi.com
Share your Want List via email, Facebook or Twitter
Default share setting is "private" until you say otherwise
Attractive design that is simple to navigate
App lets you know if the price of an item on your list has increased or decreased since you added it
Easy to send feedback from within the app
Cons
No way to quickly import your wishlist data from Amazon or other websites, so have fun doing it manually
Search only returns 10 items, making this a bad tool for searching broadly: you need to use precise search keys to get relevant results
Results aren't always organized by what's most relevant or popular: a search for "One Direction" as per the App Store instructions brought up a necklace as the first result, rather than a CD related to the band One Direction
Discussion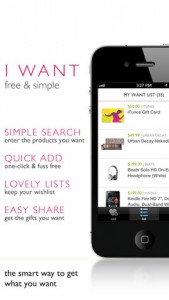 Like I mentioned at the beginning of this review, I have a tendency to live in my Amazon Wish List. But that's a hassle sometimes, particularly if I'm reading news on the go, and see something cool mentioned there. When I just have my phone and no access to my laptop, it's kind of a slog to import that info to my Amazon Wish List later on: there's no elegant way of doing so.
Sadly, I Want Wish Lists won't help me there. It's great as an at-hand tool for recording stuff I see on my phone and "want," but it doesn't work as a central wish list manager without letting you import lists.
You also can't have multiple lists, which is a real issue if you want to have a private list for your shopping, and then another list of gift ideas for people in your life.
This app is so beautifully designed, and so minimal in its look. But unfortunately, it feels a bit minimal in its list of features as well.
Conclusion and download link
In conclusion, I Want Wish Lists is an elegant-looking app. However, that elegance doesn't extend to the mechanics of the wish list. Still, this is a new app, and by the time version 2.0 rolls out, hopefully this app will be robust as well as beautiful.
Price: Free
Version reviewed: 1.3
Requires iPhone/iPad/iPod Touch, iOS 6.0 or later
Download size: 1.5 MB
I Want Wish Lists on Apple App Store
Related Posts