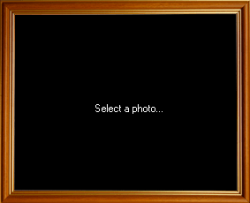 Do you want to spice up your desktop? Well you can by simply adding digital photo frames to your pictures. This can easily be done with the help of Free Photo Frame. The program comes with over 25 frames to choose from, and it can easily help you create a fun theme for your desktop and pictures.
WHAT IS IT AND WHAT DOES IT DO
Main Functionality
Free Photo Frame is a program that helps you add digital photo frames to your pictures. The program has over 25 frames to choose from. It will let you add these digital frames to one picture, or you can choose a folder of pictures to create a slideshow effect.
Once you add frames, the pictures are displayed on your desktop.
Pros
25 picture frames to choose from
Choose one picture or a folder of pictures to create a slide show effect
Offers frames for portrait, landscape and even panorama pictures
Cons
Can't change the size of the frames, so pictures look rather small (few inches big)
Only supports JPG and JPEG pictures
Online forums suggest that the program has difficulty running on Windows 7 Professional
Overall lack of customization is troublesome
Not all frames support all three picture styles (portrait, landscape and panorama). Instead, certain frames are predesigned for certain picture types
Discussion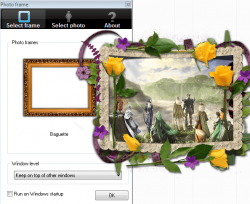 Free Photo Frame is a great idea, but the program simply fails to deliver on almost every account. Sure it can help you spice up your desktop, but not in the way that you might hope. When I think of a digital photo frame, I think of a frame that goes around the whole picture. Free Photo Frame offers that, but it makes your pictures only a few inches big. That's right, this digital photo frame is not supposed to replace your background picture. Rather, it lets you stick a picture in a small frame and place it anywhere you want around your desktop.
First, let's cover the good things…or the lack thereof. The program does offer you 25 frames, which is a pretty nice variety. It also lets you choose to display one picture in your picture frame or a group of pictures to make a slide show effect. It doesn't matter if the pictures are portrait, landscape or panorama, this program has frames for all of them. Oh yeah, and it's free.
Onto the bad, which unfortunately has a much longer list than the good. Let me start off by pointing out the major flaw of this program, and that is the inability to customize it. Choosing a frame is about as much customization as you get here. The frames are set to a small preset size. This size cannot be adjusted to fill up your whole screen. Instead, you will have a small photo frame sitting on your desktop. I guess they were trying to achieve the effect of a virtual desktop, and this digital photo frame would be like placing a real picture on a physical desktop. Cute idea on paper, but it doesn't pan out so great in real life.
For the fun of it, let's pretend that you like the idea of having a small photo frame sitting on your desktop. I mean, maybe you want a small box showing you a slide show of your pictures. Well you better hope that all of your pictures are JPG or JPEG, because these are the only file types this program supports. This is a shame considering the fact that there are so MANY picture types out there. In short, it's just another missed opportunity for the program.
Last, I would like to cover "Windows 7" support. It has been listed as a supported system, because it does run on Windows 7. However, if you are running Windows 7 Professional, you may have problems installing this program. Now, I don't have Windows 7 Professional, so I can't confirm this. That being said, it seems to be a pretty common problem online. So keep that in mind should you choose to try out this program.
CONCLUSION AND DOWNLOAD LINK
Free Photo Frame is a program used to decorate your desktop, but it just does a terrible job of it. With so many missed opportunities and the inability to customize anything, this program is a pass on just about every level. I am not sure what they were going for when they made this program, but they missed the mark. I would have to suggest you pass on this program.
Price: Free
Version reviewed: 1.1
Supported OS: Windows NT/2000/XP/2003/Vista/Server 2008/7/8
Download size: 5.84MB
VirusTotal malware scan results: 0/46
Is it portable? No
Related Posts