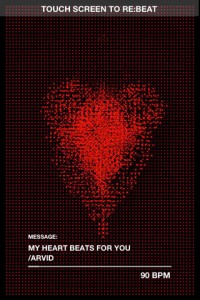 Valentine's Day is just around the corner, and I will tell you now that pretty much everyone you know is sick of lame e-cards, stupid teddy bears, and all the usual, played out V-Day gifts. The new hotness this year is sending a message with the Rebtel Re:Beat app for iOS. Why send out Valentine's greetings with a generic heart shape on it, when you could be sending a greeting that's really personal?
What is it and what does it do
Main Functionality
Rebtel's Re:Beat app lets users send an animated greeting to friends and loved ones with a personal twist: using the camera on your phone, the app takes a profile of your heartbeat to make a custom heart animation.
Pros
Unlike most other V-Day apps, this one isn't cheesy or saccharine
Share your heartbeat through SMS, email, Twitter or Facebook
If your camera isn't working, or you don't want to have the flash come on, you can tap the screen instead, in time with your pulse
Cons
Some users have complained that the app would be better if it had sound
No ability to send custom written greetings
Discussion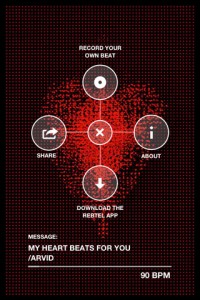 After capturing your heart's beats per minute, you can share the unique heart animation with someone. Just enter your name, and choose a greeting. Sadly, there are only a handful of greetings to choose from: "My heart beats for you," "Wishing I was there," "Thinking about you," "I'm just a heartbeat away," and "Happy Valentine's Day!"
One thing that's annoying is that you can't send the same message to multiple contacts at once. (Also, you can only send messages to people who are already in your contacts list.) And once you send the message, you have to create a new heartbeat from scratch in order to send another message. Not the most elegant solution.
That being said, this is a cool idea that is great for Valentine's Day revelers who hate cutesy V-Day greetings. It's cool, modern, and wonderfully tactile.
Conclusion and download link
This simple app is a great way to share a Valentine's Day greeting that isn't too mushy or stereotypical. It's a really cool-looking app, and pretty simple to use. It might not be the best tool for sending out greetings en masse, but it's a lovely way to send your heartbeat to the one person who has your heart.
Price: Free
Version reviewed: 1.0
Requires iPhone/iPad/iPod Touch, iOS version 5.0 or later
Download size: 7.0 MB
Rebtel Re:Beat on Apple App Store
Related Posts