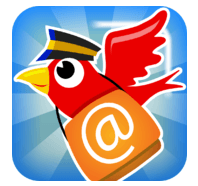 If you've ever wanted to set your own custom push notifications and sound alerts on your iPhone or iPad, there's a Mac App that can help you out. It's called WeNotify, and it was developed by Eurosmartz.
What is it and what does it do
Main Functionality
WeNotify lets you use your Mac to set up custom push notifications on your mobile iOS devices. WeNotify is a helper application that runs in the background on your Mac or PC, and automatically checks all of your email accounts to then push your customized alert to your device in real time. However, WeNotify only works if you also use AltaMail (also developed by Eurosmartz) on your iPad or iPhone.
Pros
30 custom alert sound effects
Set push notifications sounds for each different email account or for an individual person
Have a recurring event on your schedule?  Copy daily schedules from one day to another using the "copy" function
Quickly and easily suspend notifications with just two taps (perfect for silencing your phone on the road or while in a meeting)
Imports info from your current calendar: no need to enter the same info all over again!
Cons
WeNotify is free to use, but it does require that you have AltaMail installed on your iPhone or iPad (and AltaMail costs $4.99)
Ho-hum design for the Mac App: it's very functional, but could be more attractive and more inviting
Discussion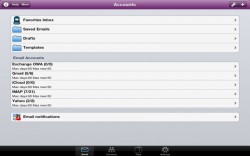 Once you have set up WeNotify on your Mac, your next step is to create your personal notification profile. You can set things up so you only get push notifications during business hours, or only on certain days of the week. You can set up one of 30 custom push notification sound alerts, which is great if you need to know the second an important email from a contact arrives in your inbox, but you don't have time to sit in front of your email and click refresh all day.
While WeNotify is a free app, the push notification service only works if you have AltaMail for iPad or iPhone. AltaMail does cost about 5 bucks, but it might be worth upgrading from your current mail app if you are dissatisfied. Some of AltaMail's features include the ability to zip and unzip received attachments directly on your iPad or iPhone (something that the built-in email app can't do), as well as the ability to use their built-in document storage.
I do think that WeNotify would be a much more appealing app if it worked with a few different email apps, but I get that EuroSmartz wants to keep it all in the family. But as high-rated as AltaMail may be, not everyone wants to spend money on a Mail app.
Conclusion and download link

If you already have AltaMail installed on your mobile device, you'd be silly not to download WeNotify. But if you don't already have AltaMail installed, you might hesitate to download WeNotify. But with great custom push notifications and an easy-to-navigate interface, WeNotify is so appealing that it is worth shelling out the extra cash for the related AltaMail app.
Price: Free (but requires AltaMail on your iOS device which costs $4.99)
Version reviewed: 1.0.5
Requires OS X 10.6 or later
Download size: 1.6 MB
Related Posts