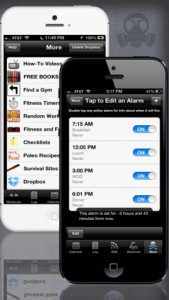 One of the very first apps I reviewed at dotTech was Zombies, Run!, a great running app that told you a zombie apocalypse tale as you ran (and would force you to "outrun" zombies during each session.) If you're the kind of person who needs the idea of getting fit for the apocalypse to motivate you, you should check out another apocalyptic fitness app. It's called Doomsday Fitness, and it's currently free for a limited time only.
What is it and what does it do
Main Functionality
Doomsday Fitness aims to help users get fit by hanging harbingers of doom over the heads. If the world ended tomorrow, and you survived, would you be fit enough to outrun your enemies? With Doomsday Fitness you can easily log your workout of the day (WOD), monitor your past workout records, and share your accomplishments on Facebook and Twitter.
Pros
Over 700 preloaded WODs and a RANDOM WOD Feature
Access to tons of health-related content, from Paleo Diet recipes to survivalist lifestyle tips to the US Army Ranger Handbook
Integrated with Azumio Heart rate monitor
Multiple types of timers, suitable for any activity
An auto-recovery function to recover lost data in the event of accidental app deletion
Ability to create custom workout, as well as to see videos of how certain routines should be done
Cons
App is skewed heavily towards Crossfit disciples: if you follow a different fitness plan, you may feel a bit left out
App lacks wiki-style links in exercise descriptions to provide you with more info on an exercise you may be unfamiliar with
Discussion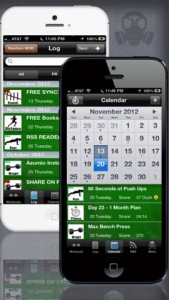 From shows like "The Walking Dead" and "Doomsday Preppers" to a rich treasure trove of post-apocalyptic books that are popular right now, many Americans are getting into the "Prepper" mentality. Call them paranoid if you want, but at the very least the worry that something bad could be just over the horizon is a good reason to get fit. Some people just need that extra push to get started on a fitness routine (and to stick with it.)
I love that you can randomly select a Workout of the Day to keep things from getting stale. Fitness should be a routine, but varying that routine a bit keeps you motivated and interested. There are literally hundreds of workout ideas here, and most are designed to give you a great workout without making you so tired that you can't get through the rest of your day. There are even days of rest built into the programs.
You've also gotta appreciate the huge list of resources that the app provides, from healthy recipes to survivalist books and forums. One thing I disliked was how hard it was to look up some of the exercises from within the app. I would much prefer being able to click on an exercise mentioned in my WOD and getting a description or visual, as if I were browsing a Wiki site. It helps to have some knowledge of Crossfit in order to get the most from this app.
If you're the kind of person who prefers a predetermined workout rather than making up your own routine, Doomsday Fitness will tell you exactly what to do in order to get fit, fast. It's like a trainer in your pocket.
Conclusion and download link
Whether you're a doomsday prepper, hardcore survivalist, or just a fan of post-apocalyptic stories, Doomsday Fitness provides a good reason to get fit. It's a dog-eat-dog world out there, and getting fit is the best way to ensure your health…and one day, perhaps, your very survival.
Price: $2.99
Note: At the time of this writing, this app is available for free for a limited time
Version reviewed: 1.0
Requires iPhone/iPad/iPod Touch, iOS version 5.1 or later
Download size: 16.7 MB
Doomsday Fitness on Apple App Store
Related Posts