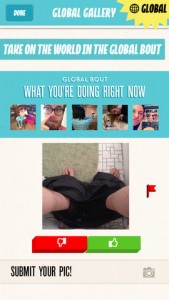 I never really got into the whole Draw Something craze. Frankly, I'm not super great at drawing. But one form of artistic expression that pretty much everyone can do well (at least, with an iPhone in hand) is photography. If you love sharing photos with friends, then you should check out the competitive, social photo game that's taking the App Store by storm: Bout. If you suck at drawing, Bout lets you feel artistic and social at the same time.
What is it and what does it do
Main Functionality
Bout is a social photo challenge where users respond to a prompt/challenge from their friends, and submit a photo that best encapsulates the prompt. Accept a challenge, then race to submit the most creative picture. If your friend selects yours as the winner, you get coins as a reward. You can share the best photos to Facebook, Twitter or Instagram.
Pros
Tons of funny photo prompts like "Something you should never put in a taco" or "A terrible mother's day gift"
You can log in with Facebook or create an account using your email
Great design and execution
Cons
You do need to sign in before you can play around with the app, which will turn off some users
The latest version does have some bug fixes, but crashes can sometimes still occur
Discussion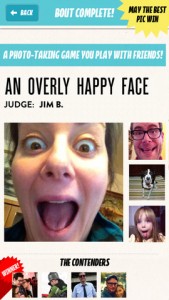 If you have ever played card games like Apples to Apples or Cards Against Humanity, you'll feel right at home with Bout's edict to gross out, shock, perplex, and amuse your friends with your wacky antics and choices. There are so many goofy, wonderful imaginative challenges that you can share with friends. In addition, you can also make custom challenge Bouts.
It's awesome to see your friend's previous Bout activity if you need a laugh, or are just curious about what challenges they have won in the past. Only have a few friends on Bout? You can spread your pictures far and wide when you share Bout to Facebook, Twitter, or Instagram.
There's a real sense of connection with your friends when you play Bout…and there aren't many social games/apps that I can say that about. It's a simple app that offers up a ton of cheap fun and helps you feel connected to your friends, no matter how far away they might be. All my complaints are minor in the face of such a fun app.
Conclusion and download link
Combining the best aspects of Draw Something and Apples to Apples, Bout is the perfect game for anyone who loves to laugh and be goofy with their friends. This app is smartly designed, fun to use, and a darn good idea. I'd far rather interact with friends on this social game than pretty much any social game Facebook has ever offered. Check it out now!
Price: Free
Version reviewed: 1.2
Requires iPhone/iPad/iPod Touch, iOS Version 6.0 or later
Download size: 29.2 MB
Related Posts