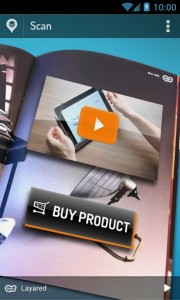 Layar is an application that will display a variety of digital information through your smartphone's camera to help you learn more about objects around you. This application is perfect for tourists who are unfamiliar with a certain city and need help finding specific types of places. This application can also be great for those who simply want to learn more about some of the areas they frequently visit.
What is it and what does it do
Main Functionality
This application is designed around the concept of using augmented reality in order to help familiarize you with an unknown place., It is different from traditional maps as it gives you information from your point of view, not an aerial view.
Pros
View links and other digital content on top of physical items such as newspapers, magazines and advertisements
View and navigate to nearby places
Find out simple information about what's going on around you
Social capabilities
Cons
Not useful in all places
Buggy
Discussion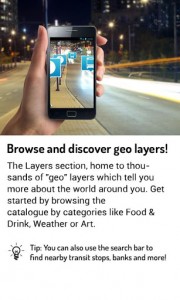 Layar is actually a rather interesting concept that if implemented properly, can really change the way people use their smartphones. It will essentially display relevant digital content on objects that you are viewing through your device's camera. As a result, you get access to tons of specific information tailored directly for the object you are viewing. For example, you will be able to get links to content that you are viewing in newspapers or magazines, making it easy to find out more about a topic or even purchase an item you saw. This is all possible due to the thousands of layers that are actively developed and expanded. As expected, you get social features so you can easily share content you are seeing with people through Twitter or Facebook
The application can also be useful to you while you are walking down the street. At its most basic function, the application can find and navigate you to a variety of locations that may interest you. However, the application's real usefulness comes out when you begin pointing your camera at places that are in front of you. Layar will identify places like popular restaurants and stores all through your camera lens. In addition, you can find out historical information, possible housing options, and even which flights are flying above you. Once you find something that you particularly like, you can save it as one of your favorites so it is easy to access later.
While this application seems amazing on paper, in practice, it really isn't. For starters, the only way you can get the most out of this application is if you live in popular cities and read popular newspapers and magazines. This is because the information is very specific, meaning it is difficult to apply to unpopular content. If you live in a small town or read obscure content, then you can probably forget about the application being able to display relevant information. This of course makes sense as it would be an impossible task to completely document every city, town, newspaper, and magazine.
Conclusion and download link
While there are some unfortunate aspects to this application, they doesn't make the app useless. This application is actually the perfect companion to any frequent traveler. If you travel to a big and popular city, like a lot of people do, then this application could really help you find interesting restaurants, stores, and other information. As a result, I can definitely recommend this application for use under those circumstances. Hopefully the developers will continue to expand on the locations and content that it can successfully scan, that will certainly provide the success that the application really deserves.
Price: Free
Version reviewed: 7.1.4
Requires: Android 2.2 and up
Download size: 7mb
Related Posts