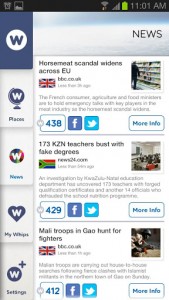 NewsWhip is application that uses social trends to determine which news stories are the most appealing to users and which ones are the most popular overall. This application is perfect for those who have difficulty choosing specific news sources to commit to and prefer to simply read the most popular ones. It is also great for those who are interested in social sciences and which story themes resonate with people the most.
What is it and what does it do
Main Functionality
This application is designed to provide you with news stories that are gaining the most momentum on popular social websites. This method aims to make your results feel mor epersonal as that is the type of data that is used to gather the stories.
Pros
Dozens of news topics
News from 10 countries
Filters
Favorites section
Ad-supported
Cons
Somewhat buggy
No ad-free version
Discussion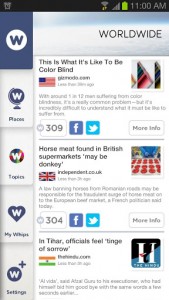 NewsWhip is a truly unique approach to finding and discovering quality news. All of the news it displays is based on the most popular trends of websites like Facebook and Twitter. The application pulls all of the most shared, liked, and tweeted stories and displays them conveniently in a single news feed (if that's how you want them to appear). This is actually an interesting concept for digital media. As of right now, the only major infrastructure that exists that is similar to this approach is the social website Reddit. Other than that, there aren't any other services where you can get news and only news based on what is the most popular on social sites. Even on Reddit, you are only viewing what is the most popular among Reddit users. NewsWhip however, will give you the most popular content polled from all of the most popular social networks.
This application, while still young, actually boasts all of the basic features you would expect from a news application. You will be able to browse news based on which topics you like the most. This is essential because sometimes you aren't interested in various different types of news depending on what you're looking for. In addition, you can also browse by place, as you have the ability to view news from up to 10 different countries. This is a great start and I'm sure that more will be updated as the application progresses. You also get a section called MyWhips which will remember all of your most frequently visited topics. Once the application has a good handle on what you typically like, then you will be able to go here for a more personalized news feed.
This application has but one fatal flaw that has undoubtedly plagued every single application on the Google Play store at one point or another. This application is extremely young. As a result, it suffers from frequent force closing and overall jumpy experiences. This is completely expected and to a certain degree, completely acceptable. It will be this stage that will determine whether or not the application gains any real traction.
Conclusion and download link
Overall, this application is a tremendous step forward in how people find and read their news on their mobiles devices. The biggest aspect for this application is how it handles these early stages. The developer must work hard to solve every little inconvenient crash and force close if it hopes to make it into the big time. The truth is, if this application were stable enough, it could overtake any news application out there in terms of features and uniqueness. As a result, you should undoubtedly keep a close eye on this application as it is using a totally new way to gather news stories.
Price: Free
Version reviewed: 1.1
Requires: Android 2.2 and up
Download size: 1mb
Related Posts