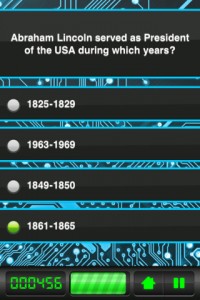 Some people get text anxiety and freeze up, while other people actually sharpen their focus under pressure. If you like your time wasters to be peppered with a dash of time constraint, then the wide-ranging trivia game Trivium is sure to get your blood pumping. Plus, it's the kind of time waster that makes you feel like you aren't wasting time, but using down time in a productive way.
What is it and what does it do
Main Functionality
Trivium is an iPhone app that introduces trivia questions to users in the hopes of boosting their general knowledge and pop culture IQ. Trivium should not be confused with the Orlando-based metal band of the same name.
Pros
Adaptive questioning: as you play, the game adjusts the level of difficulty based on your correct responses
Automatic game state saving, resume your game instantly wherever you leave off
130 interface theme configurations
10 total game modes: 5 for single users, and 5 for multiplayer
Cons
Questions are targeted for high school and college players: younger players may be dismayed
You have to download bonus question packs to keep the gameplay fresh, or access certain questions that are germane to your interests
Not all themes are attractive looking
Discussion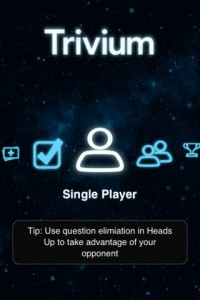 In medieval universities, "trivium" referred to the three subjects that university students had to master before their advanced studies: logic, rhetoric, and grammar. These subjects were the "three roads" that would help a person reach enlightenment. Of course, Trivium the app expands that basic knowledge base from old school subject areas, and includes questions about TV, science, the natural world, and more.
Recently revamped, Trivium features a ton of different game modes to keep things fresh. The most casual is Endless mode, or the time-free Timeless mode. For a challenge, you can try the Endurance mode: one question, two answers, fifteen seconds to respond…and no mistakes allowed! You can also pick a mode based on how many questions you want to answer.
One thing that is nice (and a bit unexpected) is the level of customization. You can update your name, the theme, the theme color, and whether you want the sounds in the game to play or stay mute. Leaderboards are provided through Game Center to help you see how well you do compared to other people.
I was really pleased with the basic array of questions. Everything from popular TV to biology, sports to literature. It's a very nice, evenly balanced blend of trivia that will challenge and please most people. Of course, if you want more questions, you can always shell out a couple of bucks for more question packs.
Conclusion and download link
If you're a trivia buff or just stuck on a long bus ride, Trivium will keep you occupied and prevent you from ever feeling bored. If only the question packs were free, too…
Price: Unknown
Note: At the time of this writing, Trivium is free for a limited time
Version reviewed: 3.1
Requires iPhone/iPad/iPod Touch, iOS version 4.0 or later
Download size: 48.5 MB
Related Posts