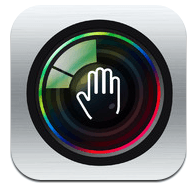 Gesture-based controls are all the rage right now. In recent weeks, we've talked about apps like Flutter (a "Kinect for OS X" tool for controlling music and videos) and the Leap Motion Controller. Today, we're taking a look at a photography app called CamMe. This clever app lets you take selfies or group photos by using two simple hand gestures: there's no longer any need to tap the camera button on your iPhone when you want to take a picture.
What is it and what does it do
Main Functionality
CamMe lets you take photos using two simple hand gestures. Just put your mobile device in front of you, raise your hand, and close your hand to activate the camera, and you will have a picture taken without ever needing to touch the camera button on the phone. CamMe supports photos take with both the front and rear facing cameras on your iOS device.
Pros
No touch needed to operate, great if you're trying to take a photo from a high angle
Plenty of time after you finish the "closed hand" gesture before the camera takes the picture: no weird pictures of people holding up a closed fist!
Simple, easy-to-use UI
Great for taking pictures of yourself on vacation without having to ask a stranger for help
Cons
Hand gesture controls aren't reliable
Appears to only have sharing for Facebook and Twitter
Discussion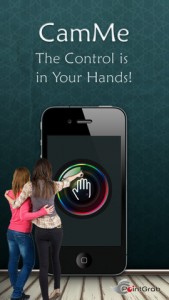 The way that CamMe is supposed to work is pretty simple. You present your open palm to the camera, make a fist, and lower your hand by the time you count to three. After that three-count, the camera is supposed to go off and capture your smiling face.
Unfortunately, I couldn't get the app to take my picture once. The gesture-based controls did not seem to register for some reason. Sadly, a look at user reviews show that other users have had the same complaint. I tried using both cameras, and at various distances. No dice. I tried uninstalling and reinstalling the app, but that also did not work.
From what comments I've seen, this app works best in the iPhone 5. I have a 4S. Users who could get the app to work on their phone noted that the app didn't always play nice with the rear camera on the phone. Despite having a video tutorial on start-up that shows you exactly how to do the hand gesture, CamMe seems to not be working for many who download it…including me, sadly.
Conclusion and download link
CamMe's developers stated, "Just raise your hand and smile – CamMe will do the rest!" on their App Store page. If only that were true. Perhaps the bugs will be worked out in the next update. I hope so, because this app is a really cool idea. Sadly, I couldn't get it to work at all. I hope to try this app again in the future.
Price: Free
Version reviewed: 1.1.0
Requires iPhone/iPad/iPod touch, iOS version 5.1 or later
Download size: 21.3 MB
Related Posts