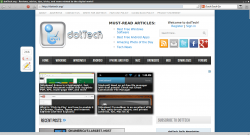 Every once in a while in the Linux world a new web browser comes along. This one is called Midori, and it's been around for a decent amount of time. It's a pretty basic webkit based browser developed by twotoasts and is part of the XFCE project. Midori is a decent alternative to mainstream browsers on Linux, Mac and even Windows too.
WHAT IS IT AND WHAT DOES IT DO
Main Functionality
Midori isn't like mainstream web browsers. It has absolutely zero 'extensions' or 'add-ons' pinned into it. Midori natively supports ad blocking and user scripts. Midori is based on the webkit browsing engine, and it also touts native GTK+2/GTK+3 support. The development of Midori happens in a git repository, the browser is (of course) open source and is community driven.
Pros
Places a high emphasis on your browsing privacy
Speed dial
RSS feed panel
Built-in adblock
Userscript integration
Support for external download managers
Customizable keyboard hotkeys
Somewhat portable
Native GTK+2/GTK+3 support
Cons
No browser extensions (similar to Firefox and Chromium)
Terrible tab management
Somewhat slow
Pathetic HTML rendering
Limited toolbar customization
Primitive bookmark management
Discussion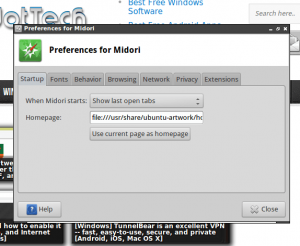 I've used Midori on and off for the past year or so, and I have to say, I'm not that impressed. For a developer that puts in this much work, I have to wonder why this browser is so clunky. Obviously it's a challenge to build a web browser from the ground up, but when you're using the 'tried and true' webkit engine, there shouldn't be too much of a problem. I get it, maybe the developer wanted Midori to look like his own creation. Still, that implementation is ghastly and sludgy. Now, this all might sound overly critical, but this needs to be said. If nobody ever criticizes your work, you'll never get better.
Midori needs a ton of work, and obviously it's not the worst browser in the world, but it's not the best either. Midori has its uses, and I almost always install it to my Linux computers. Why, after all I've said, would I do that? One reason, because I think that every browser has it's use, and I usually use Midori when I let someone else use my computer, or if I need to do something that requires that I have the utmost privacy.
For this review, I used Midori for about a day and a half, and though I've  basically ripped on it for half of this review, I think that it's a decent browser. Now, I use the word 'decent' loosely. Midori can get the job done, and it's a nice change of pace from the world of Mozilla, Google, and Opera. I really hope that as Midori grows, the developer will learn from some of the mistakes that has been made along the way. This is a growing project so it's not really a surprise that Midori is in the state that it is. After all, one man can only do so much.
Overall Midori is an easy to learn browser, so it's going to be great for people that don't really understand how advanced browsers work. I really didn't feel too much in the way of enthusiasm for the browser so obviously Midori isn't for me, but my opinion isn't the rule of law.
CONCLUSION AND DOWNLOAD LINK
If you're interested in a new kind of web browser on Linux, you like trying out new things, and you're interested in something that respects your internet privacy, then give Midori a chance. I can't say that I'll ever use it as my day to day browser, but then again, everyone is different. Midori is worth a look, but keep your hopes low.
Price: Free
Version reviewed: 0.4.9
Supported OS: Ubuntu, Debian, Fedora, OpenSUSE, Gentoo, etc.
Supported software repositories: Ubuntu, Debian, Fedora, OpenSUSE, Gentoo, etc.
Download size: 1.1 MB
Is it portable? Sort of
Related Posts