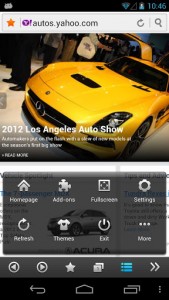 On the Android platform it is very easy to find web browsers but is very hard to find a good web browsing app. There are, of course, the mainstream ones namely Chrome, Opera, and Dolphin. However, looking beyond those, Boat Browser is an extremely intuitive Webkit-based internet browser for Android. Boat Browser has great features along with very good plugin and extension support.
What is it and what does it do
Main Functionality
Boat Browser is an internet browser for the Android platform. It is based on the Webkit engine and is developed by the Boat Browser team. The browser is based on speed and efficiency as well as customization.
Pros
Centered around customization
Add-on support
Bookmark management, import, export, and sync
Webkit based
Side toolbar
Speed dial
Flash support
Video support
Cache to SD card
Download manager
User-agent switcher
User allowed to more fully utilize the speed dial with the pro version
Swipe gestures
Cons
Speed dial has items that you're not allowed to remove (unless you purchase Pro)
Tab switching can be slow
Swipe gestures aren't great
Add-ons have a very limited selection
Discussion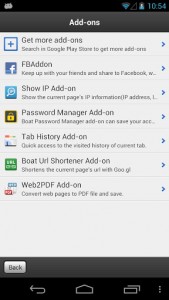 On Android, I'm usually using the Dolphin Mini browser because of it's speed and memory footprint, but after using Boat Browser for a day or so, I'm thinking of reconsidering my browser set up. Boat is very similar to Dolphin, but Boat has its own spin on the Webkit engine. Dolphin might be more popular, but Boat really deserves a moment in the spotlight.
I really enjoyed the way that Boat implemented add-ons. Sure, the add-ons were pretty basic (URL shortener etc.), but it means that there's an API just waiting to be developed for. If Boat released some kind of software development kit, or let the users (who want to make extensions) know how they could do it, I'm sure a ton of add-ons would appear as people seem to love browser power-ups.
I was pretty let down that this browser does not have support for user scripts, as they can easily be used in place of 'add-ons' that can greatly increase the appeal of your browser in the eyes of a power user. Still, Boat has some pretty great features. Outside of the add-ons, I really appreciated the fact that I could let Boat cache itself to my SD card. I was also was glad to see the video and flash support in Boat. It's a necessity in a good browser on Android.
Overall, if Boat browser was a bit more responsive than it is I'd switch from Dolphin Mini, but it still has a few drawbacks. The one that stands out the most for me would be the gestures. They're really not that great, but maybe that's because I've been spoiled with Dolphin. If Boat had better gesture functions I'd seriously consider switching from Dolphin to Boat. Seeing how that isn't the case, I'd say that Boat Browser, though a very good internet browsing experience on Android, isn't something that I'd use in my day to day tool-chain. I'm hoping that in the future the developers of Boat will continue to improve it. I will be keeping tabs on it.
Conclusion and download link
If you're in the market for a browser on Android, and you're not a fan of Dolphin, Chrome, or Opera, you need to give Boat Browser a go. It has some very useful and interesting features, and if you don't mind a few minor things, Boat Browser is a great app. It might not be perfect but it really gets the job done. The webkit engine makes browsing very smooth and fluid. I recommend Boat to Android users that like to try new things and Android users that don't care for the mainstream browsers.
Price: Free
Version reviewed: 5.2
Requires: 2.1 and up
Download size: 3.4 MB
Related Posts