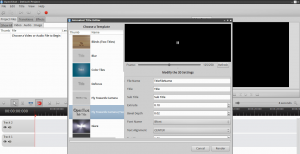 A good and easy non-linear video editing program is pretty rare on Linux. Luckily, we have OpenShot. OpenShot makes it easy for you to edit your video files and create your own movies on Linux. OpenShot is an open source project and is written in the python programming language.
WHAT IS IT AND WHAT DOES IT DO
Main Functionality
As stated above, OpenShot is a non-linear video editing program for Linux. OpenShot makes editing simple movies easy with it's incredibly intuitive and straightforward interface.
Pros
Audio and video file support with FFMPEG
Gnome integration
Drag and drop
Com positing with image overlays and watermarks
Blender integration for advanced visual effects
3D animated titles
Key frame animations
Digital zooming
Kens Burns effects
Easy to understand rendering options (render to YouTube, Flickr, etc)
Cons
Project clip player lags out and the image freezes at times
Timeline isn't very complex
Most codecs don't come pre-installed with the package
Discussion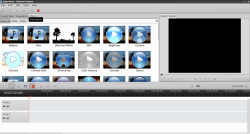 Having a good and simple video editor on Linux is really rare. It's the rarest thing in the Linux world as most video editors are either too complicated to understand, or are nice but deprecated and unsupported. So it's nice to see something like OpenShot in the wild. OpenShot is only for Linux (unless you compile and port it to Windows yourself), and it's a great tool if you really need to make quick videos for YouTube or what have you.
OpenShot doesn't require a lot of know-how to get up and running. It's really straightforward and I think that's why I'm so impressed with it. It comes with pretty much everything you're going to need and its extremely simple to make videos. OpenShot has gnome integration and supports drag and drop so you can easily drag your video, image and audio files into the project box to get going. If you've used any sort of non-linear style editing software this should all be very easy to pick up.
OpenShot has a great selection of video effects that you can choose from, supports watermarks/overlays, and even can integrate within Blender (3D modeling program for Linux) to help you render advanced 3D title animations. OpenShot makes simple editing easy, but it also makes rendering hassle-free. Making a video for YouTube? Click the render button then select profiles and then select YouTube and the desired quality of the video you'd like to use.
I produce an audio/video podcast every single week and I'm a dedicated Linux user. I could use Kdenlive (a really advanced video editing program for Linux), or I could just use OpenShot. I pick OpenShot every single time because it does what I need to do and it does it in the simplest way possible.
The only gripes I have with OpenShot are as follows. I'm a little annoyed that when you install OpenShot on your machine, it does not go out and install all the video codecs that are needed right off the bat. I'm also a little annoyed that sometimes the preview project player lags out and drops frames. Sometimes it even stops playing videos. Other than that I really enjoy OpenShot, and a lot of video editing programs on Linux (Kdenlive etc.) have a lot of catching up to do in the simplicity and ease of use department.
CONCLUSION AND DOWNLOAD LINK
If you use Linux and you plan on making or editing videos on your machine, or you think it'd be nice to at least have the option, do yourself a favor and install OpenShot. It might not be the most advanced tool in the shed but it makes up for it in ease of use.
Price: Free
Version reviewed: 1.4.3 
Supported OS: Ubuntu, Debian, Fedora, OpenSUSE, Gentoo, and other Linux
Supported software repositories: Ubuntu via Launchpad
Download size: 12.3 MB
Is it portable? No
Related Posts