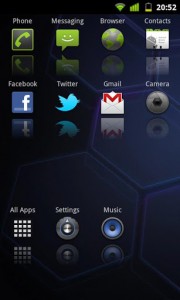 Last week I reviewed Zeam Launcher. I deemed it a "fast and lightweight replacement" to the default Android launcher. Well, Lightning Launcher is even lighter than that. It's the smallest homescreen replacement app I've had the privilege of installing. And Lightning Launcher is very simple on the surface but underneath it has some real advanced features.
What is it and what does it do
Main Functionality
Lightning Launcher is a homescreen replacement app. Lightning Launcher handles your app drawer, your homescreen, workspaces, and widgets.
The following is a five minute video showing Lightning Launcher in action:
Pros
Allows you to place apps everywhere on the homescreens — you aren't restricted to a grid, although you can use grid formation if you desire
Can place widgets in folders
Can place itself inside RAM
Integrated app killer (add on)
Allows you to backup and restore LL settings
Tons of customization options
Theme support
Cons
Themes are hard to find
App launcher placement is really complicated
Widgets crash at times
When loaded into RAM it can become unstable (loading into RAM is optional)
Discussion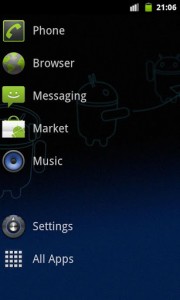 As much as I love Zeam, I like to have alternatives. When I get bored of Zeam Launcher, I find myself going to Lighning Launcher. Not Nova and not Apex. Lightning Launcher. Why? I'm a huge fan of how Lightning Launcher is developed, how it works, and how responsive it is. It's a personal favorite of mine, and while I don't necessarily dislike apps like ADWlauncher, Holo Launcher and etc, I just never really connected to them like I did with Lightning Launcher. Maybe it's because I'm a software minimalist.
A lot of my software on all of my devices are as minimal as possible, as slim and as neat as possible.Bottom line. No frills or gimmicky features that are trivial and unnecessary. That's probably why I hit it off with Lightning Launcher. I really liked how everything was so simple yet so advanced. There wasn't some snazzy app drawer with widget sections and a play store tab. It just has my apps and that's it.
I cannot stress enough about how bloated, over complicated, and heavy programs annoy me. It doesn't matter what the platform is, I usually find myself the most attracted to the light launcher that can do more than the heavy 50 megabyte app that says it solves the world's problems.
I really like Lightning Launcher, and after I finish this review, it will still be on my phone. One of my favorite parts of Lightning Launcher is the homescreen app placement. Unlike other homescreen apps, you are not restricted to placing your apps on the homescren in grid style. You are given a grid, yes, but you can move between an infinite amount of places in the grid to choose from essentially meaning you are not restricted to a grid. My second favorite feature of Lightning Launcher is the memory footprint. This is one of the lightest launchers I've probably ever come across, rivaling Zeam even.
Of course, it's not like I think Lightning Launcher is perfect. It does have a few issues. The major issue being that the support for native Android widgets is abysmal, but it's not the end of the world because I'm really no fan of using widgets on Android. If you are a fan of widgets, expect to download third-party widgets if you use Lightning Launcher. I also had problems when I used the feature that allowed me to load it into RAM, making the app unstable. However, all in all, I am immensely impressed with Lightning Launcher.
Conclusion and download link
Lightning Launcher is a great, light homescreen replacement app, and it has tons of features. Not as many features as other, larger apps but more features than you would except in an app that is less than 200KB download. I can't recommend Lightning Launcher enough. It's second in line for my launcher of choice (after Zeam Launcher) on nearly all of my devices and every time I re-install it, I find new surprises.
Price: Free
Version reviewed: 7.4.1
Requires: 1.6 and up
Download size: 191 KB
Lightning Launcher on Play Store
Related Posts