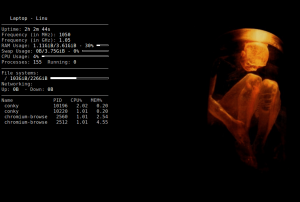 Conky is a very unique program and, typical to the Linux platform, Conky is very customizable. It's a system stat tool that runs inside of X and on Linux. Conky is essential if you're the type of person that likes to watch and keep track of what your system is up to at all times.
WHAT IS IT AND WHAT DOES IT DO
Main Functionality
Conky, in essence, is a system monitor program for Linux (BSD version is also available). Conky can do everything from telling you what your CPU usage is, how much RAM is in use, email notifications, to what song you're listening to, and everything in between. It has everything you could ever want.
Pros
Support for nearly 300 built-in objects/monitors, including monitoring CPU usage, RAM usage, disk usage, 'top' monitor, network mointor, and more
Fully customizable
Can be extended with it's built in Lua support
IMAP and POP3 support
Imlib2/Cairo bindings allow users to execute arbitrary drawings with Lua
Supports popular Linux music players
Can be extended with your own scripts
Thorough documentation Wiki
Cons
Complicated for new users
Default settings are very primitive in styling
Discussion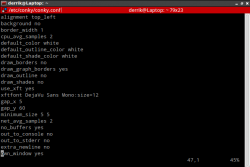 Conky is a wonderful tool, and a very unique one at that. I don't think I've ever come across another system monitor on Linux that can also let me know if I have new emails, or what song is playing. It's no secret that the best part of Linux is the customization. Over the years I've seen breathtaking Conky setups. Some of them being very good looking and very unique.
Conky truly is one of a kind. There's no way around that. It is also a very lightweight tool, and can be extremely handy. Want to check how much RAM you're using? Minimize all your windows and look at your desktop. It will tell you what applications are using the most ram, how much of the CPU it's using and what process id they have.
The only major issues I have with Conky would be that to a new user that is looking to get into it, it isn't necessarily easy to make something very intricate without searching through the Conky documentation. However, that is to be expected, seeing as this is a very powerful tool.
I also wasn't too big a fan of the default look of Conky. Sure, it's a bare-bones application and it has a ton of powerful features, so I shouldn't really be complaining.  I just feel that since there's a ton of interest in the Conky project I'd have thought someone would have come along and updated the code for modern times.
I really enjoy using Conky and I have it installed on all my systems. It has become an essential tool that I use every single day, and I'm not really sure if I'd ever get rid of it. There's really nothing else that can even come close to Conky. If you're a Linux user and you still haven't tried out Conky. You really need to. You'll fall in love with all it's features and everything that it can do.
CONCLUSION AND DOWNLOAD LINK
Overall, Conky is a wonderful program. It's pretty much essential if you're a Linux geek. If you're tired of opening your terminal to check your stats, you might want to download it. If you're a Linux user, you've probably already heard of Conky and you'll probably agree with me when I say that more people need to check it out.
Price: Free
Version reviewed: 1.8.1
Supported OS: Ubuntu, OpenSUSE, etc. — any Linux distro/BSD
Supported software repositories: Ubuntu via official software repositories and most other distros are likely to include this in software sources as well
Download size: 612 KB
Is it portable? No
Related Posts