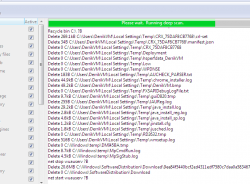 When it comes to Windows, maintenance is critical. If you don't take care of your system you'll regret it later. Your computer will slow to an eventual crawl and you'll get frustrated. All this can be avoided by installing a tool like BleachBit. I'm quite aware of CCleaner. I am also aware dotTech has reviewed it in the past, but in this review, I'm going to make the case as to why BleachBit is just as good.
WHAT IS IT AND WHAT DOES IT DO
Main Functionality
BleachBit is an open source, cross platform system cleaning tool. It cleans temp files, browser history, browser cache, browser cookies, logs, and more. It can do deep scans of your system and the data on your harddrive to clean it. BleachBit can also shred files, rewrite free disk space, and even has a command line interface.
BleachBit works on Windows and Linux. We specifically reviewed the Windows version here.
Pros
Cleans temp files, privacy traces, and more
Has features that increase system performance (e.g. decreasing the size of Firefox's, Chrome's, and Thunderbird's database
Supports cleaning of all major browsers (Firefox, Internet Explorer, Chrome, Opera, and Safari) plus over 100 other programs (see list to the right)
If you want support for more programs, developer constantly adds support for more programs via an optional winapp2.ini file, a list that is 1200+ programs strong
Has an integrated file shredder (aka secure deleter)
Can overwrite free disk space to hide previously deleted items
Easy usability
Has a command line interface that allows BleachBit to be automated with scripts
Cross-platform — works on both Windows and Linux
Open-source
Is portable
Cons
Underwhelming user interface
No registry fixing tool
Can sometimes run slowly when doing heavy cleaning
Discussion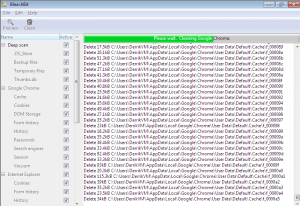 In the introduction to this review I brought up CCleaner. I used to be really enthusiastic towards CCleaner, but as it has grown popular and the installer comes bundled with crapware (Ask Toolbar, Google Chrome, etc.). Of course there is a 'Slim' crapware-less version of CCleaner and there is a portable version that doesn't have the toolbar, but I just cant handle that kind of thing.
That's probably why I'm so interested in BleachBit. It's open source, community driven, to the point and powerful — with no crapware. I don't have to deal with that kind of thing with BleachBit. I really appreciate how the program is open source, and another bonus is that I can also run BleachBit on my Linux systems.
The BleachBit feature that stands out the most in my mind would be the 'file shredder'. I really like how this works and I really appreciate how the developer cares a lot about user privacy. System privacy is important, so it's nice to see a tool that can take care of that sort of thing for you. An honorable mention would be the command line interface. I've already started writing scripts for my Windows machines to make this whole process of cleaning a little bit more seamless.
I didn't have too many problems with BleachBit, but there were some. The user interface was really basic and not very attractive, but that's a criteria I place in my reviews because I think that design is just as important as function. Another issue I have with BleachBit is the lack of registry fixing. That's something that CCleaner has, and it's a pretty decent feature. I hope that in the future the developer will add this to the Windows version. It's really important.
BleachBit is a very humble cleaning program that I came to enjoy. I've already replaced CCleaner with BleachBit on my Windows machines and have installed BleachBit on my Linux systems. And Since the developer is always promising new features I'm pretty excited to see what it has in store next.
CONCLUSION AND DOWNLOAD LINK
If you're not really a CCleaner person and you just want to try a new cleaning program out, do yourself a favor and grab BleachBit. It's a great application, one that deserves a lot more recognition that it currently gets. BleachBit is a must have in my opinion.
Price: Free
Version reviewed: 0.95
Supported OS: Windows and Linux

Download size: 6MB (Windows version)

VirusTotal malware scan results: 2/46
Is it portable? Yes
Related Posts