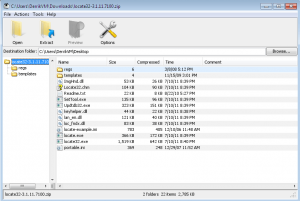 On Windows there's no shortage of archiving programs. There's 7zip, WinRAR, WinZip, PeaZip, and others. dotTech even has a review on best free archiving program for Windows. If you're a software junkie there's a huge chance you're going to need an extraction program that supports many archive types. Zipeg is one such program.
WHAT IS IT AND WHAT DOES IT DO
Main Functionality
Zipeg is an archive extraction program that can extract over a dozen archive formats. It doesn't create archives — it only extracts them.
Pros
Can extract a lot of archive file types (ZIP, RAR, 7Z, TAR, GZ, TGZ, BZIP2, ISO, CBR, CBZ, ARJ, LHA, LZH, CPIO, RPM, CHM, Z, WAR, and EAR)
Multi-archive extraction support
Supports decryption of encrypted ZIP and RAR
Photo previews via XIEF
Sorts filenames into alphabetical order (unicode supported)
Automatically detects code pages and translates them
Easy to use
Cons
Hideous user interface
Hasn't been updated since June of last year, meaning development may be dead or very slow
Icon is mediocre
Doesn't have very many compelling features that set it apart from the competition. In fact, only being an extractor and being unable to create archives makes it inferior to many other offerings.
Discussion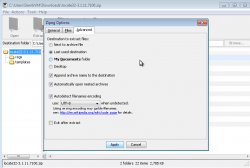 There is a lot of choices when it comes to extraction programs on Windows. It's safe to say that there's no shortage of them. My archive extraction software of choice is 7zip. 7zip is easily the easiest, most full featured archive software. It's one that I use exclusively when I'm logged into my Windows machine.
The thing I like the most about 7zip is the fact that it is open source. I also like the Windows menu integration. Anywhere in the file system I can just right click and extract. Some people may favor WinRAR but I always look at WinRAR as proprietary software that can't even compete with free software.
After looking through Zipeg, I'm not impressed at all. I thought, "how hard is it to screw up a file extraction program," but it looks like this developer has managed to do that. Granted its not the worst program in the world, I mean, it does what it's supposed to do. There's at least that. I just wish Zipeg was a little bit more robust.
There's really nothing too compelling with Zipeg. It is open source, which is a plus, but the user interface is utter garbage, the icon looks like it was made in 5 minutes, and I think the developer has decided to give up on program — it hasn't been updated since June of last year. Now, this isn't meant to be rude, or scathing, but I feel like a lot more could have been done with Zipeg.
Not all of it is bad. My mother gets really confused when she's extracting archive files, so I'm glad that this has such a basic user interface that she'd be able to understand it. I'll be introducing it to her. Zipeg has its place for users that want a decent archive extraction solution but don't want a lot of menus to deal with. Zipeg has it's uses so it's not a horrifying program. No program is terrible, some are just better than others.
I will not be using Zipeg again any time soon. I really have no reason to switch from 7zip. Zipeg doesn't have anything nearly as advanced as 7zip, WinRAR or the others. The only thing it really has going for it is the simplicity. It's a very simple program, one that is almost painfully simple.
CONCLUSION AND DOWNLOAD LINK
If you're looking for a very simple extraction solution, Zipeg might be the program for you. It has the standard extraction features you'd come to expect and its easy to use. Aside from that, however, there is no real reason that I can see for someone to grab Zipeg over something like 7zip. Maybe if you're looking for something new you should give Zipeg a go.
Price: Free
Version reviewed: 2.9.4.1316
Supported OS: Windows XP, Windows Vista, Windows 7
Download size: 1.6 MB
VirusTotal malware scan results: 0/45
Is it portable? No
Related Posts