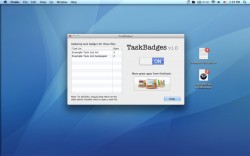 The best apps, the ones we end up using every day, are almost always the most simple of creations. A good, simple app is like a good, simple kitchen tool: it just feels right in your hand, and you don't need to make any extra movements to get it working. One ultra-simple Mac App is TaskBadges, developed by Kitestack Software.
What is it and what does it do
Main Functionality
TaskBadges adds the number of open tasks on your simple text to-do list (e.g. a to-do list in a simple text document) to the file's icon in Finder and on the desktop so that you always know how many open tasks are remaining simply by looking at the file.
Pros
A perfect way to keep track of tasks in your to-do lists
Supports three text styles: Square brackets style, todotxt.com style, and TaskPaper style
Takes up very little space on your Mac
Cons
Hasn't been updated since its initial release in late 2011
If you don't already implement a square brackets style, todotxt.com style, or TaskPaper style for your to-do lists, you will need to do so in order for TaskBadges to interpret your list correctly
Discussion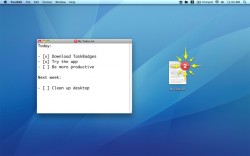 Everyone has their own style when it comes to managing their workload, composing to-do lists, and keeping on top of their tasks and projects. My personal style tends towards a more bare-bones approach. Just give me a plain-text document, and I'm at my happiest using that to record my daily to-do list.
TaskBadges is pretty simple to use. Just slide the big ol' ON/OFF switch into the "ON" position, and you can start adding files. With simple drag & drop controls and an interface that always stays on top of other windows (unless you hide it), TaskBadges boasts a very simple interface for its devoted fanbase.
That being said, TaskBadges isn't quite as simplistic as it could be. You do need to keep your to-do lists in one of the three following styles: Square brackets style, todotxt.com style, and TaskPaper style.
Other reviewers who have checked out TaskBadges have noted that it would be nice if the app also handled even simpler plain-text lists: having it understand just a "-" for incomplete or an "x" for complete would be really nice. Sadly, given the fact that this app has not been updated even once since its debut in 2011, this seems unlikely to happen. Still, despite some minor limitations, TaskBadges really is quite a handy, simple creation.
Conclusion and download link
For anyone who prefers to record their daily to-do lists in a simple text file, TaskBadges is a delightful add-on that makes your life easier. This Mac App ensures that, with just a single glance, you know exactly how many more tasks you need to complete before quittin' time.
Price: Free
Version reviewed: 1.0
Requires Requirements: OS X 10.6 or later, 64-bit processor
Download size: 0.3 MB
Related Posts