If you're big into instant messaging you might want to listen up. Empathy allows you to use all of your instant messaging accounts in one place. dotTech has covered Pidgin in the past, however, Empathy is a viable alternative. Empathy is part of the Gnome project, and is the standard IM client that ships with Ubuntu.
WHAT IS IT AND WHAT DOES IT DO
Main Functionality
Empathy is a multi-account supported instant messaging program for Linux. Empathy is maintained by the Gnome project.
Pros
Support for multiple protocols: Google Talk, Jabber/XMPP, MSN, IRC, Salut, AIM, Facebook, Yahoo!, Gadu Gadu, Groupwise, ICQ and QQ. (Supported protocols depend on installed Telepathy Connection Manager.)
Can use SIP, XMPP, and Google Talk  for video and audio chat
Can import account information directly from Pidgin
Has conversation themes
Spell check
Emoticons
Private group chat
File sharing
Conversation logging
Allows for the sharing of location information.
Has Python bindings integrated into libempathy and libempathy-gtk
Has collaborative application support (aka tubes)
Cons
Severe message lag at times
Not many themes to choose from
Not a lot of plugins to choose from
System tray plugin is terrible
Discussion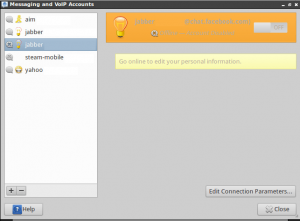 I use instant messaging services all the time. I mostly use Pidgin for all my messaging needs. For the most part Pidgin does the job but it's not for everyone. Some people don't like Pidgin, and I understand that. Empathy is a satisfactory replacement. I'm not a huge fan of it personally. I don't hate Empathy, in fact, I switched to it for a while. After a while I felt like Pidgin was the better application so I switched back.
Don't get me wrong, Empathy isn't terrible. It has some compelling options, but it doesn't really stand out to me. It really just feels like another take on Pidgin. Now, it takes a user from a different perspective to prefer one type of application over the other, and people certainly have their preferences. Empathy is very polished program, one that is very fluid and good looking. Sometimes messages take a while to be sent or received but that's a rare occurrence.
The folks at the Gnome project always make quality applications and Empathy is no exception. Some of the features aren't very compelling but that's just because Empathy has a long way to go to overtake Pidgin. Most people honestly just use what works and Pidgin is that program. I'm a little disappointed that there's really no custom plugin community like there is with Pidgin.
It's not all bad. Empathy does VOIP and video chat extremely well and I'm very much impressed with it. The video chatting is very much up to par with some of the other video chatting platforms on Linux. VOIP is also very polished as well. The IRC support is alright but it's ok. They did say 'limited IRC support' so it's not that big of a deal. Empathy is a satisfactory replacement for users that don't really want to use Pidgin. Canonical has chosen Empathy over Pidgin for the default messaging app so they must be doing something right.
I don't think I'll switch from Pidgin at any time soon. If the Gnome project continues to add amazing features I'll be more than willing to abandon Pidgin. This is a program that I'll be keeping tabs on. I hope that this program keeps evolving and that one time in the future I'll be able to change my opinion on the matter.
CONCLUSION AND DOWNLOAD LINK
If you're not a fan of Pidgin, you'll want to give Empathy a go. It has some very compelling features and is very polished. Empathy is a product of love from the Gnome project. If you're dissatisfied with the other options on Linux, I recommend that you give Empathy a chance.
Price: Free
Version reviewed: 3.3.2
Supported OS: Ubuntu, OpenSUSE, etc. — all Linux distros
Supported software repositories: Ubuntu via launchpad, any distro with Gnome
Download size: 4.1 MB
Is it portable? No
Related Posts