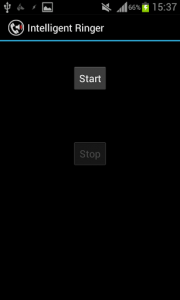 One of the biggest issues with always having a phone on you is that it can go off at any minute. There's nothing I hate more than a quiet meeting, or movie being interrupted by a blaring phone. I'll be the first to admit, I don't always put my phone on silent or vibrate when it needs to be. That's why it would be fantastic to have an app that could automate the process. Intelligent Ringer will analyze the surrounding environment using your phone's microphone and then modify ringtone volumes accordingly.
What is it and what does it do
Main Functionality
Intelligent Ringer will use your phone's integrated microphone and automatically adjust ringtone volumes to suit the environment. For example, if you're somewhere quiet, then the app will turn ringtone volumes down, but if you're somewhere loud then the app will increase ringtone volumes to make sure your phone is heard. The main point here is that the application runs in the background, and the whole process is automated, leaving you free from stress.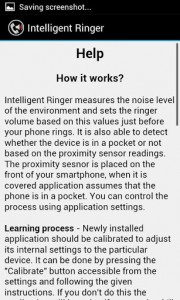 Pros
Robust variety of settings and customizable options
Automatic calibration function
Progressively learns about surrounding environments and becomes more accurate
Works just as advertised and works quite well
Very easy to use, just press 'start' and 'stop' accordingly
No ads
Cons
The UI is not particularly attractive (it's not detrimental but it is worth mentioning)
Littered with typos
Playing with some of the settings can break functionality
Discussion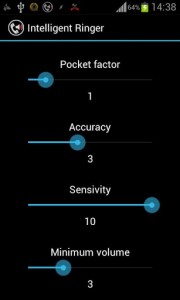 Intelligent Ringer is a fairly straightforward app but -believe it or not- there's actually quite a bit of depth to it. It makes use of the integrated microphone on your device, specifically the one that works simultaneously with your camera. It adjusts ringtone volumes for notifications and phone calls depending on the environment, or the signals that different sensors recognize. There is even a pocket function that activates when the phone is in your pocket. In the case of pocket mode, the app uses the proximity and light sensors on your device.
To use Intelligent Ringer, you just have to load the app and select the "start" button. It runs in the background and uses remarkably little resources. When a call, text, email or notification comes through the app changes the sound limits right then and there to ensure there are no interruptions, or in the opposite scenario that you can actually hear the phone.
You can even fine tune the app by calibrating the different detection modes. Settings include pocket factor, mic sensitivity, detection accuracy, and minimum and maximum volumes. Each setting has a different value assigned to it, but luckily there is a highly detailed help section to guide you through customizing the various settings.
There's also an automatic calibration process that, when pressed, has you put the phone in a noisy location and then a quiet one respectively. It supposedly improves precision of the detection process, although I personally just left the app on the default settings.
It works quite well, at least from the different scenarios that I used it. I tried it while in a class, where the atmosphere was pretty quiet and where I wouldn't like my phone interrupting. Later, I also tried the phone while a stereo was booming music out loud. Both times the app adjusted sound volumes properly. In class,  the volumes were turned down, and around the stereo the volumes were turned high. I did try several different notifications including incoming phone calls, text messages, emails and various other custom ringtones.
Intelligent Ringer is free to download, and there are no ads or premium upgrades to deal with. That's a pretty rare thing to see these days, and it is certainly welcome.
The app isn't perfect though, but I think you'll find most of the issues just come from being nitpicky. The user interface is pretty bland and could do with a little more flair. Honestly though, it's hardly a breaking issue. There are also quite a few typos throughout, including in the detailed help section.
Also, if you play around too much with some of the settings, you can run into real problems. For example, if you set the detection accuracy to the maximum amount, it takes the phone longer to change the ringtone volume and can actually crash the app. For the most part, this issue affects lower end devices, but I did notice a bit of a delay on my own device with precision turned all the way up.
Conclusion and download link
All in all, Intelligent Ringer does exactly what you need it to. A plus point is that the default settings work well, even without going through the initial calibration process. The app will also learn, and become more accurate with sound changes as you use it more. It uses remarkably little resources, exactly as an app that runs in the background should. There are a couple quirks, and you obviously have to be careful when customizing the different settings, but such problems can be overlooked. If you need an app that can automatically set ringtone volumes depending on your situation and setting, than Intelligent Ringer is for you.
Price: Free
Version reviewed: 1.0.3
Requires: 2.3 and up
Download size: 205KB
Intelligent Ringer on Play Store
Related Posts