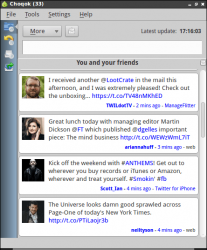 Twitter can be a very powerful tool for many different types of people. It can help you manage your brand, interact with your fans, or ever keep up with friends and family. With all that in mind, it is important to have the best Twitter client that caters to all of your micro-blogging needs. Choqok is a decent Qt based Twitter client, but also a good micro-blogging client in general.
WHAT IS IT AND WHAT DOES IT DO
Main Functionality
Choqok while mostly considered a Twitter client, is also an identi.ca and StatusNet client as well. Choqok is built with Qt and is the standard micro-blogging client that is shipped with almost all KDE plasma implementations.
Pros
Supports all major Twitter functions (@reply, favorite, RT etc)
Can also use identi.ca and StatusNet, in addition to Twitter
Supports all Twitter and StatusNet APIs
Makes use of KDE Kwallet to protect your passwords
Global shortcut support (CTRL + Meta + T)
Supports all desktop environment notification daemons
All major photo hosting services are available
All major url shortening services are available
Has the ability to use the Google translate services
Powerful filtering options
Videos from major services (YouTube, Vimeo etc) can be embedded into the application for viewing
Qt based
Cons
When using notifications that are not KDE notifications, the notifications are not formatted properly
Poor GTK2/GTK3 intergration
Requires that you get a pin from Twitter to authenticate instead of using Oauth
Annoying notifications tells you there's new tweets instead of just loading them constantly
Discussion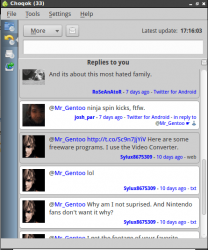 Most Linux distros these days ship with a micro-blogging client of some kind. Canonical and a majority of GTK based distros choose Gwibber (review coming soon), but Choqok is the Qt/KDE micro-blogging application of choice. Choqok has some very interesting features, but how does it stack up to Gwibber? Let's find out.
Right off the bat I noticed that Choqok does not have Facebook integration. I know this is a micro-blogging client, but even still, so is Gwibber, and they still have Facebook integration  Gwibber aims to be your all in one desktop client for all of your social networking needs. It appears that Choqok does not have that goal, or maybe they haven't gotten there yet.
Choqok is a very neat looking program, and since it's based on Qt I can say that it is very good looking, but it does not mesh with GTK based desktop environments. Not one bit. It really just doesn't integrate very well. Now, I know it's a stretch to expect a Qt application to fit into a GTK world, but they should have at least tried. Though KDE is a wonderful DE, it is most certainly not the most used. Even some default KDE applications have some decent GTK integration  so it's not like I'm asking them to do something crazy.
I appreciate the alternatives to Twitter inside the client. Things like StatusNet (self hosted), and identi.ca are great additions — when people decide to use them. Part of me thinks that they'd have been better off not even bothering with that. I complained about the lack of Facebook support for a reason. People use Facebook. I'm not sure that anyone even uses identi.ca or StatusNet at this point in time.
There's some good features among all my criticism. I really liked that I was able to use bit.ly and other shortening services, as well as the popular photo hosting services. I also really liked the embedded support. It was nice that I was able to watch a YouTube video that was tweeted to me without opening a browser.
Choqok is a good client, but one that is severely lacking. If you're just looking for a desktop Twitter client this can be the best program for you, but if you're looking for a social client, you're better off looking somewhere else. I can't say that I'll be coming back to Choqok any time soon. I don't hate it. I don't love it either.
CONCLUSION AND DOWNLOAD LINK
If you're looking for a good microblogging client and you've already tried out Gwibber, you may enjoy Choqok. The program has some decent features, and covers all of the basics for someone that is just looking to send a few tweets, or log into identi.ca/StatusNet.
Price: Free 
Version reviewed: 1.2
Supported OS: Any Linux distribution
Available In Software Sources: Any Linux distribution with KDE
Download size: 1,010 KB
Is it portable? No
Related Posts