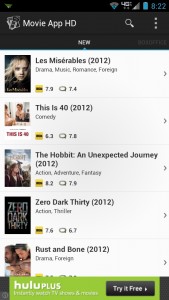 We all love movies, or at least I'm going to assume that anyway. Regardless of what movies you enjoy most, keeping track of them all can be quite overwhelming. That is where Movie App HD comes in handy. It is essentially a giant movie database that you can carry around in your pocket.
What is it and what does it do
Main Functionality
Movie App HD collects information from several different sources and compiles it all in one convenient location. At any time, you can open the app and scope out a movie right on your Android device. You can see the synopsis, movie ratings, trailers and even look up actors and actresses starring in the movie. The developers have made excellent use of Android's Holo theme, as well.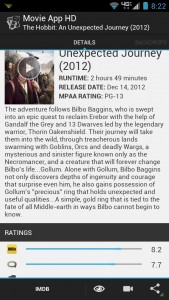 Pros
Giant movie database, including new and old films
In depth coverage, including ratings, details and more
Every movie has screenshots, and a list of similar titles to browse
Personalized watchlist
Extensive browsing history (movies you viewed in the past)
Various movie categories: New, Box Office, Theaters, Rentals, Upcoming DVD
Attractive and responsive user interface
Social Sharing button
Direct link to corresponding IMDB page
Cons
No in-depth reviews
More ratings would be nice
Trailer quality isn't the greatest (advertised as 1080p)
Screenshots and backdrops cannot be downloaded
Free version has ads, some which pop-up while you're trying to watch trailers
Premium version is $2.99, which only removes ads
Discussion
If you've ever used IMDB, or a movie database like it, then you already have a good idea of what Movie App HD has to offer. To put it simply, it's a comprehensive catalog of movies designed to better help you find what you're looking for.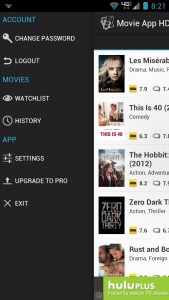 The concept is simple. Let's say you distinctly remember the name of a movie but want to know one of the actors or actresses who starred in it. Furthermore, let's say you remember the name of a star but can't remember what movie they played in. You can look that information up using the convenient search feature in Movie App.
You can also browse detailed information about each movie, including the plot synopsis, ratings, genres it fits into, writers, actors and directors. Each movie has a section for screenshots or backdrops, which sadly cannot be downloaded as wallpapers. Individual movies even have a page for similar movie titles. That way, when you get done watching a killer Kung Fu flick you can look for other films that are just like it.
You can even browse movies that are separated into different categories, like new additions, box office releases, popular rentals, upcoming DVD releases and more.
The layout is excellent, the user interface is responsive, and the developers made ample use of the Android Holo theme.
The app is not entirely flawless though.
There seems to be one major thing missing, which should certainly be available; movie reviews. For example, there are ratings for each movie, lifted from just a couple different sources, but there are no in-depth reviews. I will admit that reviews aren't always accurate, but they can at least help you decide if you want to spend the money to see a flick or not.
I'm not sure if it was just my device, but the trailer quality was shoddy. The good news is that I did not encounter any kind of connection or buffering issues. The video quality, however, leaves a little something to be desired. I do understand that not everything can stream in HD these days, but I would at least like a clear image when watching trailers. There seems to be something of an issue in terms of quality when watching trailers within the app.
It's worth noting that I watched trailers on both a Wi-Fi network connected to Verizon Fios, and a 4G cellular connection. The video quality was the same on both networks. If you encounter something different, please feel free to say so in the comments below.
The watchlist feature is fascinating because you can store movies in a list that you might want to check out in the future. There is also a history section, that shows all of the movies you've browsed in the past. It would be even better if the app had some way to identify what movies you have or haven't seen, but nothing like that has been implemented as of the time of this writing.
Also, the free version of Movie App has ads. At first they aren't so bad, and they even stay out of your way, most of the time. When you try to watch a trailer, however, you are served pop-up ads just like the ones you often see in a desktop browser. You then have to wait until a counter depletes before you can finally watch the trailer. It's not a feature that specifically destroys the app's usefulness, but it does take away from the experience.
Conclusion and download link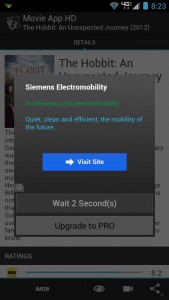 Movie App HD is almost exactly what you'd expect from a movie database app. You can search for movie information by almost any criteria, or any that you would need to anyway, and there's plenty to see. The main point here is that you can find out what you need to about a particular film. I would personally like to see more detailed reviews for each movie, and I would also like to see the trailer quality increased a bit.
If you're looking for a responsive, yet uncomplicated movie database app for when you're on the go, then Movie App HD is great. If you're a movie review fanatic and you want to catch up on all the latest comments and reviews –a la Rotten Tomato- then you should probably look elsewhere.
Price: Free, $2.66
Version reviewed: 1.3.0
Requires: 2.2 and up
Download size: 7.2MB
Related Posts