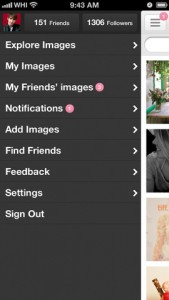 We are inundated with things to buy and covet on a daily basis. Between blogs, feeds, and social media, hardly a day goes by when I don't see a cool new product, accessory, or item that I think is cool enough to buy. Visual bookmarking is a great way to catalogue these crave-worthy items and store them for later viewing. If you want an app that combines both visual bookmarking and a social network, check out We Heart It for iOS.
What is it and what does it do
Main Functionality
We Heart It lets users share images of all the things they love and to start a gallery of your favorite inspirations. The community includes millions of people from around the world.
Pros
Group your top pictures by creating "sets" of anything: tattoo ideas, art inspiration, clothes, travel destinations, etc.
Share images on Facebook, Twitter, and Tumblr
Suport for 20 languages
Browse by what others have liked, or via your own search keywords
App shows similar entries to help you explore smarter
Cons
Pics are somewhat skewed towards young women users, though there's plenty of content that guys will respond to as well (such as zombies, landscapes, tattoos, and ladies in skimpy outfits)
App only lets you browse in portrait view, crushing some pics that would be more impressive in landscape view.
Discussion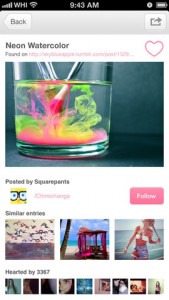 As human beings in the digital age, one of the ways we express ourselves is through our tastes. No matter what age you are, you define yourself (at least in part) by the shows, movies, and other visual media that we respond to. If you like to share photos that inspire you or amuse you in some way, We Heart It showcases the things in life that you "heart." Thankfully, its easy to navigate.
One thing I really dislike about this app is the limitation to portrait view orientation. Whether you are browsing or looking at a single image in detail, you can only view images in portrait view. It's a shame, because some of these images would be best experienced in landscape view, and the app just doesn't support that. Hopefully this will change in future updates.
The current user base on We Heart It seems to trend towards women in their teens and twenties: at least, that's what I gather from the preponderance of boy band pics, dresses, cupcakes, and relationship-related quotes.
That being said, there's a lot for more masculine tastes as well: zombies, nightlife, chicks in bikinis, tattoos, and gorgeous landscapes, to name a few.
Conclusion and download link
We Heart It takes collage-making to the next level, allowing people to share things that inspire them and entice them with others from all over the planet. If you want a social network that has less chatter and more lush photography, the visual bookmarks of We Heart It may be just the ticket. But guys who tire easily of Gossip Girl quotes and decorated fingernails, beware: there's a lot to like for guys in this app, but you might want to brace yourself for the somewhat larger number of ladies using this app.
Price: Free
Version reviewed: 1.6.4
Requires iPhone/iPad/iPod Touch, iOS version 5.0 or later
Download size: 8.6 MB
We Heart It on Apple App Store
Related Posts