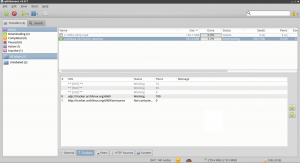 Torrenting is pretty popular infamous at this point; some would even say infamous. Of course many people use torrents for illegitimate purposes, but there's a ton of legitimate uses for torrents. For example, many Linux distributions distribute OS files via ISOs delivered over torrents, as it is a good way to save bandwidth. However, to download a torrent you need a torrent client. qBittorrent is one of the best torrent clients around
WHAT IS IT AND WHAT DOES IT DO
Main Functionality
qBittorrent is a BitTorrent client. It is used to download files (torrents) via seeders/peers.
Take note qBittorrent is available on Windows, Linux, and Mac OS X. We specifically reviewed the Linux version for this review but all three versions are pretty much the same, so this review is applicable for Windows, Linux, and Mac OS X users.
Pros
Supports BitTorent extensions
Support for Magnet and BitComet URIs
Built-in search engine
DHT support
Peer Exchange support
Full encryption is possible
Exceptional UPnP and NAT-PMP port forwarding functions
RSS subscription feed support
Powerful download filtering options
Has the ability to create torrents
Is IPv6 compliant and supports IP filtering
Supports sequential downloading and bandwidth scheduling
Available on most platforms
Can be controlled remotely with a web interface
User interface is very similar to uTorrent
Cross-platform — works on Windows, Linux, and Mac OS X
Cons
Downloads can sometimes slow down immensely when they hit 99%
Sometimes forgets bandwidth allocation settings
Discussion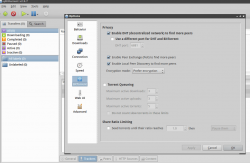 Torrents are an integral part of the Linux community. Pretty much every single distro has a few torrents up so that you can download your favorite distribution without having to worry about consuming a ton of bandwidth. BitTorrent protocol has long been stigmatized. It has been deemed bad or taboo because some people choose to do questionable things with the protocol.
In reality, BitTorrent protocol was never designed for that sort of thing. It was designed to make it easier to distribute files via 'seeders'. Everyone contributes a little bit of upload speed and the files can be distributed. I've mentioned that a lot of Linux distros are available with torrent downloads, but if you didn't know, a lot of independent projects are as well. A certain podcast network I listen to distributes all of their shows with torrent protocol (again to save bandwidth).
So with all this in mind, it is very important to find a torrent client that suits your needs. qBittorrent is my favorite. A lot of torrent clients on Linux are good, but it is my view that not a lot of them are as good as qBittorrent. The most useful thing I've found in qBittorent is the remote function. I'm aware that other torrents might have this feature, but I've gotten a ton of mileage out of it in qBittorent. Another feature that is extremely useful is the RSS subscription feature. As I mentioned that a few podcast networks I listen to publish via torrents, it makes it very easy for me to just subscribe to an RSS feed in my torrent client, and then whenever something new comes out it auto adds whatever new torrent file is available. Very handy.
I've only got a few critiques and they're not really anything major. Sometimes when downloading something, you may or may not come into contact with a file that stops downloading at 99.9% and you may or may not have to restart the download several times to get it to go again. This is a rare occurrence but has happened to me a few times. Also, qBittorrent (for me at least) has occasionally forgotten what bandwidth settings I have given it.
qBittorrent is my client of choice on all platforms. I can't really think of a better client that has severed me as well as this one. It's simple and to the point, but it also has awesome features that will keep you coming back to it. qBittorrent is one of the best torrent clients in my humble opinion.
CONCLUSION AND DOWNLOAD LINK
If you're looking for a great torrent client on Linux, Windows, or Mac OS X, you should consider qBittorrent. qBittorrent is easy to understand and has a familiar interface plus great performance. The program has tons and tons of great features, ones that will leave you wondering why you've never used it before. I always recommend qBittorrent to everyone that needs or wants a torrent client. Just keep it legal. (Ashraf made me say that. :-)
Price: Free
Version reviewed: 3.0.9
Supported OS: Windows 2000/XP/Vista/Win7, any Linux distro, Mac OS X Snow Leopard/Lion/Mountain Lion
Supported software repositories for Linux: Ubuntu via Lunchpad, and it's most likely in every distro's software sources
Download size: 12.8 (Windows), 4.8 MB (Linux), 15.8 (Mac OS X)
Virustotal scan results: 0/45 (Windows)
Is it portable? No
Related Posts