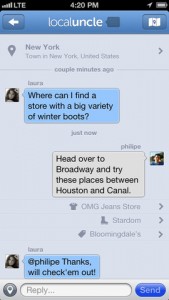 The great thing about city life is that there is always something interesting going on. There are simply more clubs, more restaurants, more attractions, and more businesses in a city than in the suburbs or in rural communities.
But this variety poses a problem: what should you do tonight? And how do you pick one place to go, out of so many similar options. Whether you are a city dweller or just visiting for the weekend, cutting through the crud to pick quality businesses to give your patronage to is tricky. Thankfully, you can get recommendations for various cities with the app LocalUncle.
What is it and what does it do
Main Functionality
LocalUncle is an app that lets you get tips, recommendations, and information about locations in any major city. Use it to ask questions about places and neighborhoods, and get answers from people on the ground.
Pros
Ideal for both tourists and residents of a city
Use a pin in the map to get specific info about a place (Ask "What's the Wi-Fi password at this coffee shop?" or "Does this restaurant have gluten-free options?")
Supports all towns and cities in the US and many international destinations as well (but has the most data for metropolitian areas where there are more LocalUncle users)
LocalUncle never discloses or shares your location. Nobody knows where you are, unless you explicitly tell people your location.
Current version of the app has reduced app file size by more than 50% over the previous versions
Can be used with or without signing in/registering
Cons
Maps and pins can take longer than you might expect to load
Some (but not all!) pin icons for locations are hard to interpret
Even a slight zoom in can mean the loss of a pin location (frustrating when you are just trying to zoom in enough to stop pins from overlapping so you can select a promising pin for more info)
Discussion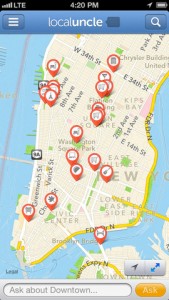 LocalUncle offers information about hot spots, from restaurants and nightlife to shops, salons, parks, and national monuments. There's a wide array of places featured, from the obvious to the underground and out-of-the-ordinary. Tap on the pin for more info, such as the address, phone number, or how many people are there now (including how many locals).
You can also see questions people have asked about the venue in the past (like "Where's a good place to eat near here?" or "Does this hotel offer room service?") In addition, you can ask some questions of your own. You can also search by neighborhood, instead of by poking around on the map.
One thing that is great about LocalUncle is the sense of community. A lot of apps that let you crowdsource information from other users lack this sense of community, which is a little surprising. Here, it's a priority. As the developers wrote on their App Store page, "LocalUncle takes these strangers and connects us all as a family – one that is respectful and helpful to all other family members. It only works because every one of us takes the time to answer a question when we receive one."
The main issue I had with this app had to do with how the pins load. Overall, the map-based browsing system for reviewing pins is pretty good. However, I often felt like pins were taking a long time to load, and that not all pins were available at maximum zoom. Something just seems to be slightly off about how the pins load when scrolling from side to side, or zooming in or out just slightly.
Conclusion and download link
Whether you're a city native looking for someplace new to hang out tonight, or planning a trip to a new city and don't want to get suckered into tourist traps, LocalUncle provides users with a place to get recommendations about where to shop, dine, and explore.
Price: Free
Version reviewed: 2.0.3
Requires iPhone/iPad/iPod touch, iOS version 5.0 or later
Download size: 4.8 MB
Related Posts