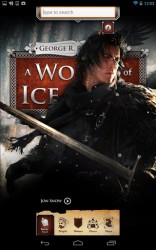 I love Game of Thrones. I'm all caught up on the books, and I've been watching the TV series on HBO since its inception. That's why, when I saw an app dedicated to George RR Martin's fictional world I snatched it right up. A World of Ice and Fire is a companion to Martin's A Song of Ice and Fire book series. It's an official app from the Random House Publishing Group.
What is it and what does it do
Main Functionality
As mentioned above A World of Ice and Fire is essentially a companion app for George RR Martin's novels. It features in depth content on all of the characters, locations, and houses from the books. Gorgeous custom artwork has been used for each portion of the app, and there are even fully interactive maps to explore.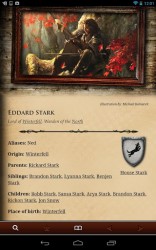 Pros
In depth character and location profiles
Gorgeous custom artwork with painstaking detail
Fully interactive maps
You can bookmark any profile for quick viewing later
Future updates to content packs will be free
Spoiler meter, allows you to keep material from books that you haven't read hidden
There is an option to hide locked content
Cons
Way too much locked content (you have to pay to unlock it)
Spoiler meter is useless unless you purchase additional content packs
Strange bug happens every so often where maps show up blank
Profiles don't contain nearly enough information
Discussion
A World of Ice and Fire is a comprehensive set of digital materials that provide insight into Martin's entire fantasy universe. There are character profiles, location profiles, interactive maps, and even dedicated profiles for all the houses/families. All of the content is systematically linked, meaning if you read about a particular scene or character that's intertwined with others, you can continue reading through the other profiles.
For the most part, at least if you're all caught up with the novels, you already know this information. In fact, I found that many of the unlocked profiles were lacking in substance.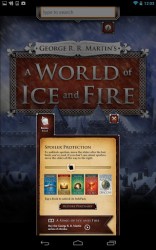 You know that unlocked content I just spoke of? Well, there isn't much of it. In fact, most of the content in the app is unavailable unless you purchase 'infopacks' for each of the books in the series. So, let's do a quick recap here. There isn't much content contained within each of the profiles, yet you have to pay extra in order to unlock everything from the books?
The custom artwork is beautiful, so much that I like the hand drawn imagery even more than what's been shown on the TV series. The art is gritty and mature, but it still holds a fantasy-like appeal.
The interactive maps are extremely cool, or at least they would be if they were unlocked. Without purchasing the additional content packs, you only have access to two of the five total maps. Upon opening one of the them, you are presented with various locations to explore. You can zoom, pan and interact with each map. The links on the map just take you to location profiles, which you can always see at any time without the maps. Essentially, the maps are just filler, and they aren't actually all that necessary.
To be perfectly honest, I would say the whole World of Ice and Fire app is filler. The content is lacking for most of the profiles you can see, and don't even get me started again on the content you can't view. It's like the app was just thrown together to make a quick buck from the infamy of the series. I could write a book of my own on just the details that have been omitted from some of the character profiles.
Conclusion and download link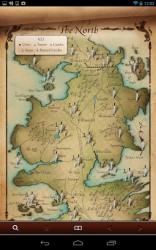 As a fan of the entire series, (traditional novels and TV) I was extremely excited when I found this app in the Google Play store. I was even more excited when I opened the app and found it to be everything I desired from a companion app of the series. Unfortunately, that excitement was short lived. Unless you're ready to spend money, you won't get much here. One could argue that the content packs actually aren't that expensive, which may be true, but I've already purchased all the books. That's not even including money spent on the box sets of the TV series. If it seems like I'm being bitter here, it's because I am. The app may be free, but the content is not. Keep that in mind before you download this one. You would be much better off reading the series for yourself, or rereading them if you've already done so.
Price: Free (Additional Infopacks are one for $1.99 or all five for $4.99)
Version reviewed: Varies with device
Requires: Varies with device
Download size: Varies with device
A World of Ice and Fire on Play Store
Related Posts