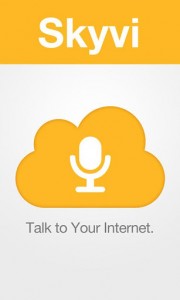 iOS users get voice dictation and search support from the infamous Siri. Hopefully you know what that is by now, but in case you don't it's an automated application that analyzes voice commands and turns them into actions. For example, you can tell Siri to locate a nearby restaurant, and she will do that (if it can actually be classified as a she). With Android, we have Google Voice search and Google Now, but it doesn't actually talk back to us. Skyvi is essentially Siri for Android, with a couple of extra features thrown in for good measure.
What is it and what does it do
Main Functionality
It's worth noting that Skyvi can do everything Siri can. It's a comprehensive dictation and search app that can convert a plethora of voice commands into actions. For example, you can request Skyvi to text or call a contact with their full name, or a nickname that you've specified. Instead of just completing actions, Skyvi will also interact with you and that includes responding (talking back).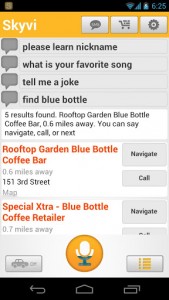 Pros
Full voice command and dictation support
Skyvi can:

Make calls
Type text messages
Lookup locations and directions
Find local weather forecasts
Answer questions
Play music
Tell jokes and respond with witty comments
Read incoming messages out loud

Connect your Facebook and Twitter accounts
Hands-free driving mode
You can specific nicknames for contacts
Cons
Ad supported. Have to pay to remove advertisements, but you have to buy $2.99 worth of proprietary coins first
Not always accurate, especially when asking Skyvi random questions
Cannot use Skyvi to type with third party apps
Did not find a way to set appointments
Discussion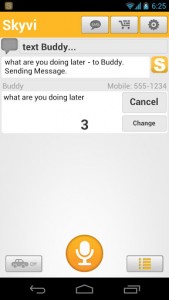 I'm pretty confident that most folks know what Siri is. I've even been asked many times by friends and family why Android doesn't have something like it. The truth is Android already has Google Voice search, but it doesn't actually interact with you like Siri does. Some may find the idea silly, but there's no denying the allure of such a function. After all, Siri is extremely popular for a reason.
Skyvi is just like Siri, only it's for Android. It also brings a couple different things to the table, most of which are nominal in terms of additional support. The app can perform all of the key actions like voice texting, getting directions, calling contacts, playing music and looking up weather forecasts.
It can also do some more advanced stuff like finding nearby locations (restaurants, theaters, etc.), posting tweets or Facebook updates and even answering questions. Better yet, Skyvi will even have fun chats with you, reply with witty remarks and sometimes she'll even tell jokes.
Keep in mind I'm using the word 'she' loosely here because at the end of the day Skyvi is just software and not a real person.
You can even teach Skyvi to refer to you by a nickname you suggest. For example, if you want her to call you 'big pimpin' that's certainly possible. It's just like the Siri commercial where a kid tells her to call him 'rock god'. Similarly, you can specify nicknames for different contacts in the settings menu. For instance, my girlfriend's name is Gabrielle, and I instructed Skyvi to refer to her as Gabbi. That way, any time I said "call" or "text Gabbi" she would do just that.
Skyvi is remarkably accurate, but there are times where she'll have difficulty understanding you. As is true of most voice dictation apps, you have to speak loud and clear. Skyvi often prompts you to keep the handset close to your mouth for the best results.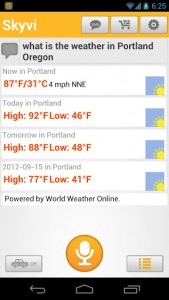 I found Skyvi that ran into the most trouble when asking her for answers to random questions, which you can most certainly do, by the way. The answers don't always turn out to be correct, especially since most of the time Skyvi misreads a word or two. I asked her what the capital of Florida is, and she returned an answer about capital punishment and the death penalty- it was a bit morbid.
Skyvi does have some pretty witty remarks at times. Like when I asked her why she always throws in advertisements after her answers, and she responded it's because I "gave it to her," like 'ads' are some kind of contagious disease. It made me chuckle a bit. In hindsight, she answered that way because she had no clue what I was asking her.
Yes, there are advertisements in the free version of the app. Skyvi will even say advertisements out loud after answering a prompt, like a paid radio show host. It's pretty silly when it happens, but I could see it becoming annoying after a while.
All advertisements can be removed with a little money. You can't just purchase a premium version through the Play store, however. First you have to buy proprietary coins, which are used for currency within the app. Then you can use the coins to wipe away the advertisements. I hate it when developers do this kind of thing. Luckily, it only costs 30 coins to remove the ads, and you can get 30 coins for $2.99.
While using Skyvi I didn't see any significant battery drain. That being said, I didn't leave the app open in the background, I always closed it after I was done with it.
Conclusion and download link
If you're a true Android user, but you have Siri envy, then Skyvi is just for you. It works almost exactly like Siri does and even offers most, if not all, of the same features and functions. The hands-free driving support is always welcome especially these days, because you can get a ticket for using your phone while on the road. Personally, I've never felt that apps like Siri and Skyvi are particularly useful- I prefer the simplicity of Google Voice search. That doesn't mean I can't appreciate the tremendous appeal these kind of apps have. I'm just saying, if you're like me, then there's nothing about Skyvi that will keep you interested.
Price: Free, (remove ads for 30 coins or $2.99)
Version reviewed: 2.130
Requires: 2.2 and up
Download size: 2.5MB
Related Posts