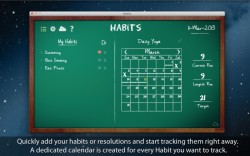 Someone once told me that to incorporate a new habit into your routine, repetition was the key. On average, they told me, it takes 28 days of repetition to make a new habit part of your routine. So if you're looking to build new habits (or break old ones), the trick is to simply make sure that you stick with it: after a month, it will be so ingrained in you that you won't even have to think about it. For monitoring your habit building process, there's a tracking program called Habits Lite for Mac OS X.
What is it and what does it do
Main Functionality
Habits Lite is based on the scientifically proven principle that it takes a continuous chain or repetition of an activity to create a new habit. You can use Habits Lite to set new habits, monitor your success at adapting to the new habits, and help you to make lasting changes to your lifestyle. Or, if you prefer, you can use it to break old habits.
Take note Habits Lite is the free, feature-limited version of Habits which costs $19.99.
Pros
Works in concert with a free iPhone companion app: 'Habits Go'
Two themes: black board and green board
Simple to record your daily progress
Cons
No way to change the font or font size
It is possible to "cheat" the program: the app lets you mark a run on days in the future that haven't occurred yet
You can only track 3 habits at once in this version of the app
Discussion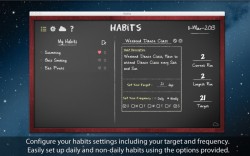 Unlike my source, the makers of Habits Lite say that it only takes 21 days to ingrain a new habit into your brain, not a full 28 days. Regardless, the developers admit that ingraining a new habit can take less or more time, depending on the difficulty of the habit and the stubbornness of the person.
I love the blackboard-inspired look of this app. At a glance, you can see a calendar view, a note of your longest "run," and the length of your current "run" of consecutive habitual successes. As they put it, "Every day that you follow your chosen habit, you grow the chain. You just need to grow the chain to a target number of days to create the habit for life."
One thing that might irk some users is the fact that Habits Lite lets you mark a habit as "complete" for days in the future. This is good for marking tasks as completed ahead of time if you're going to be out of town for a while. However, it makes users less accountable for their actions.
Only being able to track three habits at one time may seem restrictive. But really, it's not. Most people are only actively working towards a handful of goals at any one time, and for most people, this Lite version is likely to be sufficient.
Conclusion and download link
If you want an app that is literally life altering, Habits Lite can help you start healthy new habits and make lasting changes to your routine. Whether you want to quit smoking or start lifting weights, this app is quite helpful.
Price: Free (full version available for $19.99)
Version reviewed: 1.0.3
Requires: OS X 10.6 or later
Download size: 41.5 MB
Habits Lite on Apple App Store
Related Posts