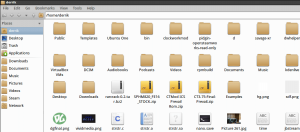 PCManFM is the default file manager for the LXDE desktop environment, but it might as well be the file manager that you should use on all desktop environments. PCManFM is a refreshing take on file management, one that is lightweight and has a ton of features. This program will help you manage your file systems both local and remote.
WHAT IS IT AND WHAT DOES IT DO
Main Functionality
PCManFM is a file managing program for Linux.
Pros
Works on environments other than LXDE
Full on GVFS support
Can handle various network protocols (sftp, webdav, smb, ftp etc)
Supports thumbnails for pictures
Elegent desktop management integration
Allows for custom bookmarks of locations (located on the left panel)
Bookmarks that are made in PCManFM are view-able from other GTK based applications
Support for tabbed windows
Drag and drop support
Elegent mounted volume management (can also auto mount)
Can change the program's defaults
Various types of file views (detailed, compact and icon view)
Advanced file searching
Incredibly fast
Cons
Sometimes crashes without warning when doing certain tasks
No multiple panes — only one pane
Discussion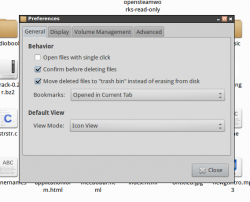 PCManFM is a great file manager. It's probably my favorite file manager. It's the default file manager for LXDE, and yet I use it on XFCE. I love how it's so lightweight, so straightforward, and so fast. I've never found a file manager on Linux that I'm as comfortable with. PCManFM is awesome in so many ways.
I'm pretty unhappy with Thunar which is the default file manager for XFCE, I feel that it's terribly lacking so I always remove it instantly. PCManFM is so unbelievably simplistic, yet just as powerful as the heavy players (Dolphin, Nautilus etc). PCManFM has some awesome features, but my favorite thing about PCManFM is the way it handles SMB protocol. Sure, all Linux file managers support various types of network protocols, but PCManFM supports it faster. When I type  'SMB://Someplace/' it loads it instantly. I don't have to click on a network icon, I don't have to fiddle with stupid icons. Everything just works.
I also really love the fact that PCManFM comes with the folder path (of which you can type into) instead of the type that you have to click everywhere and you're not allowed to type in folder paths without modifying anything. This file manager doesn't treat you like an idiot and I really admire that. It's perfect for beginner users and advanced users alike.
My only problem with this file manager is that sometimes it crashes for no reason. This is a very rare occurrence but it does happen. It's something that I can live with. I'm a massive fan of the lightweight nature of this program, and I'm also a huge fan of the other works that the guys at the LXDE project do.  PCManFM is a wonderful file manager and my obvious choice for file management. It is my humble opinion that it's the best lightweight file manager that is available on Linux.
CONCLUSION AND DOWNLOAD LINK
If you're looking for a file manager that isn't bloated and slow, consider your search over. PCManFM is a wonderful file manager. It's blazing fast, has essential features and does everything very well. You'd be doing yourself a disservice by passing it up. I can't count the number of times that I've replaced the stock file manager on most distros and desktop environments with PCManFM. Saying that it's awesome is an understatement. Download it now.
Price: Free
Version reviewed: 1.1.0
Supported OS: Any Linux distro

Supported software repositories: Any Linux distro repository that supports LXDE will be able to download it

Download size: 20,612 KB
Is it portable? No
Related Posts