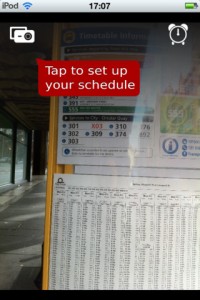 The best apps are almost always the most simple ones. That being said, I wonder if it's possible for an app to be too simple. When an app only has one function, it needs to be an important function. Otherwise, users will try it out, and think "What's the point?" One app that is useful, but perhaps too simplistic, is "simple Scheduler" for iOS.
What is it and what does it do
Main Functionality
simple Scheduler is an iOS app developed by Busang-Systems. This app allows you to take a picture of a large, complex schedule (such as a bus or train timetable) and zoom in on it for later reference. It can also be used to view your monthly analog desk calendar at a glance.
Pros
Simpler than entering all of this schedule information into your notes or calendar
Allows greater zoom on images than Apple's native Camera app (5.0x Zoom in / out)
Cons
No alarm functionality
Zoom in this app is better than Apple's Camera app, but not by enough to be truly impressive
Only holds one image at a time, and has no way to archive the schedule images
No way for the app to interpret the text "smartly" and sync that info with your Calendar app
App hasn't been updated since Fall of 2011 (and it seems unlikely to be updated now, after such a long period of inactivity)
Discussion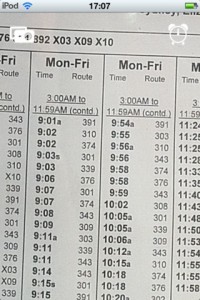 simple Scheduler is a great app if you want to have quick and easy access to a complex train or bus schedule. Just snap a picture of the timetable with your phone, and you'll be able to zoom in up to 5x on the fine print. It's far more convenient than navigating your way around a bus/transit website.
While there is a noticeable difference between the zoom ability in this app and the Apple Camera app, it's not a massively impressive difference. That being said, it probably would make a decent difference when reading very fine print.
But there just doesn't seem to be much meat on the bones of this app. There's a clock icon, but it isn't an alarm: it's just developer info. An alarm would actually be helpful here, to ensure you make your train or other appointments.
The ability to hold only one image at a time is quite frustrating. It's easy enough to switch out images from your Camera Roll, but it shouldn't be hard to archive schedules within the app. There's also no easy way to sync data from your app image with your Calendar app.
Conclusion and download link
Unfortunately, simple Scheduler is just a little too simple for its own good. While it should be commended for its improved image zoom, the fact remains that this app doesn't have enough features to be recommended. It is basically a camera app with limited functionality. Don't waste your time with this one.
Price: Free
Version reviewed: 1.1
Requires iPhone/iPad/iPod Touch, iOS version 4.0 or later
Download size: 7.5 MB
simple Scheduler on Apple App Store
Related Posts