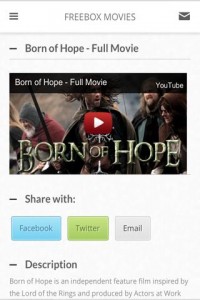 Streaming media is everywhere these days. Originally made popular by services like Netflix, Hulu and similar providers, there are a lot more options now. There are some free options out there for the folks that don't have extra money to spend, but they do not necessarily offer premium quality material. FreeBox allows you to watch various full length movies for free through YouTube.
What is it and what does it do
Main Functionality
Freebox is essentially a movie and content streaming app like Netflix. Of course, it's not a proprietary service because it relies on YouTube for content. It scours the vast wasteland of YouTube for full length movies, and then streams them directly to your Android smartphone or tablet (through YouTube — you will be redirected to use YouTube's website or YouTube app). The legality of streaming full length movies through YouTube is questionable, so videos are regularly removed for copyright infringement. Because of this, the material that is accessible through Freebox varies considerably.
Pros
There are some real gems hidden in the catalog
Browse different genres quickly via "Categories" sub-menu
Browse newly added movies quickly via "New Movies" sub-menu
You can share movie links via Facebook, Twitter or Email
Cons
YouTube style ads before and during movies
All content can be found on YouTube — it's not a proprietary streaming app, don't expect to find blockbuster films
Some of the content is garbage, but the same can be said about Netflix
There are better options out there like Crackle, Netflix and Hulu
Discussion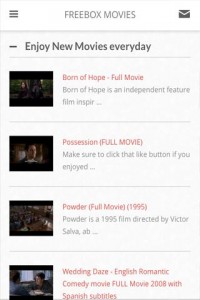 As far as features are concerned, there isn't all that much to say when it comes to Freebox. If you've used the Netflix, Hulu and YouTube mobile apps then you should have a pretty good idea of what you're going to experience.
When you first load up Freebox, you'll notice there's quite a lengthy list of movies, some old and others relatively new. A lot of the content is rather obscure though, so don't expect to see a whole heap of new movies. Granted, there are some hidden gems in the catalog, like Taken 2, The Expendables, Resident Evil Retribution and more.
Every movie has a description to go along with it just like on Netflix. This comes in handy especially with the lesser known titles because it gives you a rough idea of what they're about.
If you want to look for a certain kind of movie, you can open up the side menu and use the appropriate "categories" section. You can also check out all the newly added movies in the "new movies" section. If you're looking for something in particular, you can always take advantage of the search feature.
If you get lucky and find a real good title, you can also share it with friends and family via Facebook, Twitter or Email from directly within the app.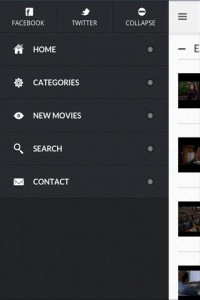 Advertisements show up before you watch every movie, and sometimes block your viewing, as well. It's not a blaring issue, and can easily be overlooked, but it's something you should be aware of.
The app itself isn't lousy at all, and the user interface is pretty straightforward. Movie quality is good too, but it actually depends on the uploaded video. If the user uploads a lower quality video, than that's what you'll be watching when you stream it.
If you want to get technical though, Freebox is potentially unnecessary because you can find all the content on YouTube. The app essentially aggregates full length videos, and brings them to the forefront, so you don't have to sort through loads of useless video blogs, and parody videos. To be perfectly honest, if I didn't already have a Netflix subscription, I might consider using this app regularly. As it stands though, it's not much competition for other free streaming options like Sony's Crackle.
Conclusion and download link
Freebox is a free alternative to media streaming apps like Netflix or Hulu. You can watch full length movies right on your Android. Unfortunately, the content varies, meaning sometimes you'll have a lot of hits and others not so much. I was surprised to find TED, Taken 2 and a bunch of other newer titles, but such movies are the exception more than they are the norm. You'll have to sort through a lot of rubbish to find the gems. That's to be expected when you get a free app like this though. The YouTube ads occasionally interrupt your viewing, and they also pop-up before every movie. Furthermore, these videos can all be found on YouTube itself, so one could argue Freebox isn't totally necessary. Then there's always the question of legality and copyright infringement.
Price: Free
Version reviewed: 1.9
Requires: 2.2 and up
Download size: 355KB
Related Posts