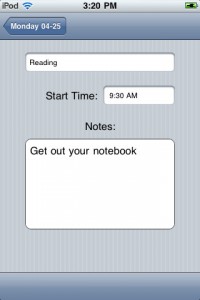 We've all heard people joke that they are "a little ADD today" when they can't seem to focus on their work. But for people who have ADD or ADHD, it's no laughing matter. For those with attention disorders and those who are just easily distracted, there is a productivity and scheduling app that can help keep you focused on the tasks at hand: Now What, developed by Richard Humphrey.
What is it and what does it do
Main Functionality
"Now What?" is a task / schedule app developed specifically for kids who need help with transitions and knowing what comes next in their day. Though it was designed with ADHD sufferers in mind, this app can also be of use to anyone who needs help with staying focused on their tasks and schedules.
Pros
Easy to create and store templates for schedules: perfect for students on an alternating class schedule or for any repeating scheduled events
App can be locked to prevent changes from being made to the schedule
Notes can be added to any event's details
Day of the week and calendar date are prominently displayed
Great compatibility with the iOS on older devices
Cons
Passcode is limited to 4 numeric characters
iPad version is stronger than iPhone version because of one helpful feature: it uses the current time to show what event is happening now, what event is next, and how long until the next event, all in a split screen package
Discussion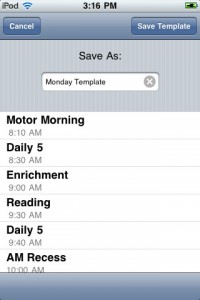 Richard Humphrey, the developer, explains the inspiration for Now What in the App Store description: "I developed this app to automate the process of writing down a daily school schedule for my son, who is on the Autism Spectrum (specifically, Aspergers). This app could be useful for children with ASD, ADHD, PDD-NOS, and SPD."
Even if you aren't diagnosed with any disorder that impacts your ability to get organized and stay organized, Now What is a useful productivity tool. This app allows for simple saving of daily templates, and also for the printing of your daily schedule.
One thing that is great is the passcode lockdown feature. This lets users lockdown the basic features of adding and deleting. If you are setting up the app for another person, this allows you prevent them from making unauthorized changes or accidentally deleting important schedule items.
Some people might wish that there were more options for customizing the app's layout and color scheme. While that would be a nice addition, it doesn't really affect the quality of the app as a whole.
Conclusion and download link
If you or someone you care about needs a hand with staying productive and remembering their schedule, Now What is a great app to consider. Appropriate for the scheduling needs of many types of people, Now What can keep people focused on tasks by always remembering what is next on their to-do list.
Price: Free
Version reviewed: 2.2
Requires iPhone/iPad/iPod Touch, iOS version 3.2 or later
Download size: 0.4 MB
Related Posts