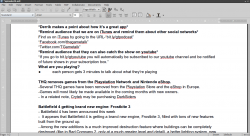 Sometimes you don't need an entire office suite, you just need to write. That's where Abiword comes in. Abiword is a simple yet full-featured word processing program. If you use XFCE on Linux, Abiword also happens to ship with the XFCE desktop environment as the XFCE team feels that Abiword is a lighter alternative to the heavy, yet very popular LibreOffice suite. If you don't use XFCE on Linux, use Windows, or use Mac OS X, you can grab Abiword on your own.
WHAT IS IT AND WHAT DOES IT DO
Main Functionality
Abiword is a word processing program for Linux, as well for Mac OS X and Windows. We tested the Linux version for this review.
Pros
Read, edit, and create support for multiple formats (Microsoft Word DOC and DOCX, OpenDocument ODT, HTML, RTF, Wordperfect, etc)

Note: Can edit DOCX files but not create DOCX. DOCX files are saved as DOC files once editing in Abiword.

Has all the standard word processing features (bullets, numbering, formatting, fonts, spell check, and everything else that you'd expect to come with a word processing program)
Extremely lightweight
Mail merge feature lets you automate certain things
Abiword can be used via command line
Easy to navigate
Excellent plugin support
Has an optional online collaboration tool AbiCollab (similar to Google Docs)
Cons
Can sometimes freeze up
Can save as DOC but not save as DOCX. And saving as DOC is actually saving as RTF but using a .DOC extension.
Is not always 100% in formatting when open Microsoft Word documents, especially DOCX
Discussion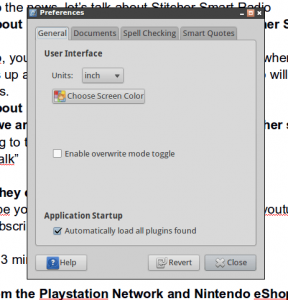 Sometimes you need to write some kind of document. Everyone has been there, be it writing papers for school, work or just casual blogging. Abiword is a very simple word processor for Linux, and it is quickly growing to be a favorite of mine. I find myself using abiword increasingly more and more as time goes on, and there is a reason for it.
Abiword is very simple. It's just a word processor, and sometimes thats really all you need. Sometimes I just don't need the full libre office suite. If all you use is Abiword, you might be a casual writing user. However, I cannot stress enough that if you're in a professional environment, you might not want to replace your current setup with Abiword.
The thing is, Abiword is a great word processor. That's where it ends. Abiword is not the answer to the words office problems. Abiword does not replace my primary office suite: Google Docs, but it does have the potential to draw me further and further away from Google Docs. Abiword is a refreshing take at the word processing program, and is a bit more simpler and more 'zen' for me than Google Docs. I've actually used it to write the majority of this review, and for the most part. It was satisfactory. Nothing beyond that. It was just alright.
I really can't say too much about features since a program like this is usually identical to anything else, but I did like how everything was usually very responsive. I only had one instance when a lock-up occurred. No features really stood out and made me say wow, but I was pretty happy to see that everything was easy to access and easy to find. It's a well put together program, albeit not very compelling.
The main thing that keeps me on Google Docs is the online collaboration. In addition to writing reviews for dotTech and my own gaming news site, I host a podcast. It's a gaming related podcast and I do it every week. I write with my co-host and we can collaborate and cooperatively write out our script for the episode. Abiword does have a service called AbiCollab for collaboration purposes but it does not compare to Google Docs, so there's no way I'd switch to Abiword for day to day stuff. However, for people that don't need online collaboration and just want a word processor, Abiword is a viable option.
CONCLUSION AND DOWNLOAD LINK
Overall, Abiword is good program for people who want nothing more than a word processor. It has no frills and the bare basic nature of it is what makes Abiword so interesting. Download Abiword if you're not a fan of the other, more fancy word processors.
Price: Free
Version reviewed: 2.9.4
Supported OS: Windows, Mac OS X, any Linux distro

Download size: 4701 KB
Is it portable? No
Related Posts