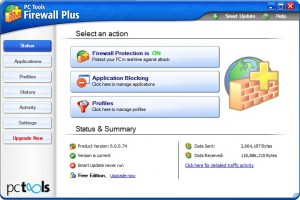 My post on how to create your own security software suite for free is one of the most popular posts on dotTech [.org]; I am sure many of you are familiar with it (if not you really should met her him it).
Originally when I wrote the article, it was top 7 free software (now it is top 9) and PC Tools Firewall Plus was the recommended free firewall of choice. The reason I recommended PC Tools Firewall Plus over other free firewalls, even though other free firewalls did provide marginally better protection at the time, is because it works well with Threatfire (an excellent behavior blocker from PC Tools), and it does not have wide spread compatibility issues like some of its rival free firewalls.
A few months later I updated my security software post and changed my recommendation for free firewall from PC Tools Firewall Plus to Outpost Firewall Free 2009. The main reason for this switch was PC Tools Firewall Plus randomly imploded on my computer (don't you love the irony). I don't know if it was my fault or if it was PC Tools Firewall Plus' fault or if it was Vista's fault; all I know is it happened. (If you use PC Tools Firewall Plus currently or plan on using it, do not worry. Unlike the compatibility issues many people face with Comodo Firewall and Online Armor, my research showed the implosion on my computer is more likely an isolated incident than a wide-spread problem.)
Back then I was using either v4 or v5 (I believe it was v5 – I can't remember for sure… my note-taking skillz were not as good back then as they are now). Since then PC Tools has updated their Firewall Plus to v6 and made it better than ever.
First, here are the new features of Firewall Plus v6:
PC Tools Firewall Plus detects when you connect to a local network for the first time and enables users to define rules for each and every local network your PC joins. You can also simply set the trust level for each local network and let PC Tools Firewall Plus automatically adjust rules to match.
Improved Data Leakage Protection
PC Tools Firewall Plus helps keep the information stored on your PC private and safe from hackers by detecting and blocking attempts by malware to leak data using trusted applications, such as web browsers and critical system services.
Windows Filtering Platform Support
PC Tools Firewall Plus is built using the new Windows Filtering Platform (WFP) architecture in Windows 7, Vista™ and Server 2008 to provide you with precise control over all network traffic, including IPv6, on both 32bit and 64bit systems.
PC Tools Firewall Plus has minimal impact on system and network resources – perfect for processor-intensive, high-bandwidth games and online broadband media content.
Take note of the most important aspect in terms of new features: PC Tools Firewall Plus now supports Windows XP (32 bit), Vista (32/64 bit), and Win7 (32/64 bit). Just in terms of the new support alone, PC Tools Firewall Plus now surpasses its three main rivals; Comodo Firewall Free and Online Armor Firewall Free do not officially support Win7 or 64-bit while Outpost Firewall Free does not officially support Win 7 (but it does support 64-bit).
However the good news does not stop there. The new v6 of PC Tools Firewall Plus now ranks number #1  for free firewalls in terms of protection:

Firewall tests done by Matousec.
Are you impressed yet? I know for sure in my next update to my free security software post, PC Tools Firewall Plus may very well regain the crown as dotTech [.org]'s recommended firewall (depends on when I update the post and/or if the other free firewalls release new and improved versions).
Now it is true it is not a complete wash; the other three firewalls have one or two aspects over PC Tools Firewall Plus. For example, Comodo and Online Armor come with optional HIPS protection (which I personally find to be more annoying than useful but it is there if you need it) and Outpost Firewall's "smart rules" and "auto-learn" features are really nice in terms of user friendliness (PC Tools has something similar to Outpost Firewall but in my experience, Outpost Firewall's system is superior in that area). However, all things considered, PC Tools Firewall Plus (v6) is an excellent update to an excellent free firewall. I know I am sold.
You can grab PC Tools Firewall Plus from the following link:
Version Reviewed: v6.0.0.74

Supported OS: Windows XP (32 bit), Vista (32/64 bit), and Win7 (32/64 bit)

License information: Free for personal and commercial use
Related Posts